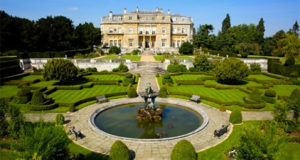 Luton Hoo Hotel, Golf & Spa will host the Master Chefs of Great Britain (MCGB), at a celebratory lunch on 5 November 2018.
Master Chefs of Great Britain is an association focused on the training and development of the nation's chefs, whilst emphasising the importance of using fresh, British produce. The upcoming lunch is in support of Master Chefs of Great Britain's vision to provide training opportunities for young chefs, giving recognition to chefs working at the top end of the hospitality industry and donating proceeds raised to a designated charity. This year, Keech Hospice Care, nominated by Luton Hoo's general manager Matthew Long, will benefit from 50% of the proceeds from the event raffle and auction.
Keech Hospice Care provides free, specialist care for adults in Luton and south Bedfordshire, and children from Bedfordshire, Hertfordshire and Milton Keynes, who have life-limiting and terminal illnesses. The charity relies on its supporters for around 70% of funding, meaning it needs to raise around £6 million every year to continue its specialist care.
George McIvor, chairman of the Master Chefs of Great Britain, commented: "I cannot thank Matthew Long and the team at Luton Hoo enough for their contribution in helping us put together what will be a fantastic event".
Luton Hoo's executive chef, Christopher Mouyiassi is a member of the Master Chefs of Great Britain and has designed a menu that reflects the very best of regional produce. Further support comes from a number of local firms sponsoring ingredients for the menu. Local colleges will also be involved, such as the Claire Clark Academy in Milton Keynes, who will be producing the petit fours. Chefs taking part in the charity dinner include, Craft Guild of Chefs' Andrew Bennett MBE; former head chef at The Grand Hotel's Mirabelle restaurant, Gerald Roser; Ben Bartlett, president of the British BBQ Association and Garry Watson of the award-winning Gordon's Restaurant, Scotland.
Matthew Long, general manager at Luton Hoo Hotel, Golf & Spa commented, "We are excited to host the Master Chefs of Great Britain's annual lunch at our hotel and look forward to working with the local colleges and the industry's great talent, to support the fantastic Keech Hospice Care."