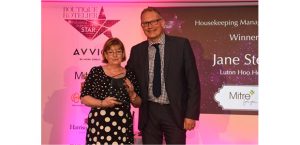 Executive Housekeeper at Luton Hoo Hotel, Golf & Spa, Jane Steel, has been named Housekeeping Manager of the Year at the 2018 Boutique Hotelier Personal Service Star Awards.
The awards, held on Tuesday 16 October at Hilton Olympia, celebrate the individuals who work tirelessly at hotels up and down the country every day to give their guests the best possible experience.
Now in her tenth year at Luton Hoo Hotel, part of the Elite Hotels Group, Jane was nominated for the award for her outstanding contribution to both the overall success of the hotel and the development of her team of more than 70 staff.
Among Jane's biggest achievements are the high ratings awarded by professional assessors including Quality in Tourism, the AA and Small Luxury Hotels of the World. Jane has repeatedly helped the hotel receive maximum scores for cleanliness, bedrooms and bathrooms with comments from assessors rating housekeeping as 'excellent'.
Managing Director of the Elite Hotels Group, Graeme Bateman, said: "I am absolutely delighted that Jane's hard work and dedication over the past 10 years has been recognised at these prestigious industry awards. Jane has played an integral role in Luton Hoo's success, she is a fantastic manager and she is a true asset to the company."
General Manager of Luton Hoo Hotel Golf & Spa, Matthew Long, said "On behalf of all the team here I would like to congratulate Jane on her award which is so well-deserved. Jane's dedication to her team and to the hotel is exceptional and she provides a real inspiration to everyone who works with her – she is a great ambassador for the housekeeping industry and I am delighted that her hard work has been honoured with this prestigious award."