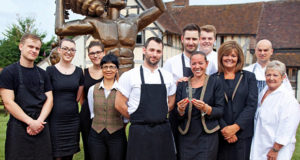 Passionate foodies no longer have to go on pilgrimage in search of the holy grail of UK gastronomy after Eckington Manor secured the title of 'Best Hotel for Food' at the Luxury Lifestyle Magazine Readers' Travel Awards.
Having impressed the inaugural awards' judging panel back in February, earning it a place on the official shortlist for the prestigious accolade, members of the public have now crowned the Worcestershire hotel as the overall winner, voting to recognise it as the pinnacle of culinary excellence.
Judy Gardner, owner of Eckington Manor, uses some of the finest locally-sourced food in the region, with every one of the restaurant's unique dishes, fronted by head chef and former MasterChef: The Professionals winner, Mark Stinchcombe, originating from the hotel's award-winning farm, orchard, vegetable and herb gardens.
Judy said: "We were very proud and humble to have been shortlisted for not one, but two awards, so to actually go on and win one is absolutely incredible.
"The response we've received from the public has been nothing short of overwhelming and we would like to wholeheartedly thank all those who voted for us as the UK's best hotel for food.
"We work very hard at Eckington Manor to ensure all of our guests enjoy a truly wonderful experience with us. Our state-of-the-art cookery school and restaurant is testament to that and puts us at the forefront of fine cuisine."