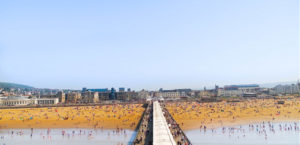 A record-breaking May delivered a badly-needed boost to Britain's troubled hospitality and leisure industry, one of country's leading procurement groups has claimed.
After a harsh, prolonged, winter, pub and restaurant owners, and attraction operators, warmly welcomed provisional Met Office figures which suggest that last month was the sunniest and hottest May on record in the UK.
The Regency Purchasing Group had warned that 2018 could be the sectors most difficult year for at least a decade. But last month has delivered cause for cautious optimism.
Regency's Managing Director, Alex Demetriou, said: "May was amazing, particularly the first Bank Holiday, which was a record-breaker in terms of revenue and visitors for a number of major attractions across the UK.
"It was the first bit of good weather we have enjoyed, after a prolonged period of cold, wet conditions, and everyone came out to make the most of it!
"The atmosphere within leisure businesses was amazing as they all enjoyed a much-needed boost.
"The start of the year was even worse than we predicted, but a great May has helped plugged the gap."
"Most attractions are still behind on last year, but the outlook is much more positive now."
Two Bank Holidays, the Royal Wedding, FA Cup Final and the presence of an English team in the Champions League Final, all helped to make May the best month of the year so far for those in the hospitality and leisure trade.
With the FIFA World Cup just weeks away, pub and restaurant owners are hoping fans will want to watch the games on big screens in the company of other supporters, which will provide a further boost to businesses.
Mr Demetriou said: "With the World Cup ahead, the medium term forecast is looking much better.
"However, just like those football teams going for glory, there is no room for complacency among hospitality and leisure businesses.
"Just because the sun is shining, it doesn't make everything completely OK again. We are still suffering from the highest cost pressures our industry has ever seen.
"With every week that passes, we see more retailers closing their doors. Their employees are customers of the leisure sector, and if they are concerned about their jobs or, indeed, are being made redundant, they are less likely to spend money on a day or evening out.
"So while May has been amazing, and very welcome, we are definitely not out of the woods yet. But May has given the industry cause for cautious optimism, and has given the businesses within it a fighting chance."