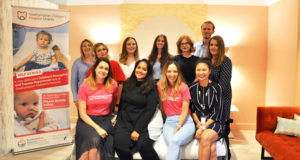 room2, the world's first "hometel", has teamed up with Southampton Hospital Charity and MasterChef 2012 winner Shelina Permalloo to host a special dinner in Southampton.
The dinner was held to inspire the local community to get involved with the charity's latest Dine at Mine fundraising campaign.
The campaign hopes to encourage people to host themed or quirky dinner parties at home to raise money for the local Children's Emergency and Trauma Department Appeal.
Guests were treated to a special menu created for the campaign's fundraising pack by Shelina who is a top TV chef and owner of local restaurant, Lakaz Maman.
Dinner was served in one of room2 Southampton's new spacious rooms to help show how the hometel concept combines the best bits of a traditional hotel and the comforts, convenience and routine of living at home. Every room has its own kitchen and Shelina said she was excited to cook in somewhere new for a worthy cause.
She said: "I'm very proud to be an ambassador for the Southampton Hospital Charity's Dine at Mine campaign. It was certainly a dinner party with a difference as I've never cooked in a hotel room before! As expected, room2 had everything I needed and it was a fantastic night with great company."
Beth Hall, head of fundraising at Southampton Hospital Charity, said: "This special Dine at Mine event hosted at the world's first hometel was a great way to spread the word about the fundraising campaign. We're hoping it will give people that extra push to host their own event at home."
Visit www.southamptonhospitalcharity.org to request a Dine at Mine fundraising pack and find out more about the room2 hometel at www.room2.com.