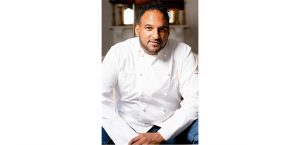 On Monday 3 December 2018, the Arena Christmas Event returns to the magnificent Mandarin Oriental Hyde Park. The esteemed and celebrated chef Michael Caines MBE will headline the popular event and industry commentator, Peter Backman, will present an exclusive industry insight session and debate.
Michael Caines will share the story of his impressive career to date, including his culinary inspirations, his Michelin-star successes, his journey with Lympstone Manor and the planting of the vineyard. He will also talk about his plans and aspirations and his thoughts on the key issues affecting the industry.
Peter Backman will explore the high street's influence and look at what the future may hold for the foodservice and hospitality industry. An esteemed panel of innovators and leaders will join Peter in conversation to consider the hot topics from different perspectives.
Lorraine Wood, director of Arena, said: "We're thrilled to be returning to the glorious Mandarin Oriental Hyde Park for the Arena Christmas Event. What better way to kick off the festive season?
"Michael Caines' post-lunch address is sure to be fascinating and inspiring, and I can't wait to hear what he has to say.  Peter Backman's insight session and debate will consider industry topics from different perspectives.  He's lining up a great panel of innovators including Rob Liddiard, co-founder and CEO of hospitality messaging app, Yapster.  Attendees are sure to have plenty to think about and take back to their businesses.
"Our events attract a diverse mix of attendees that open up a fresh audience and generate new, beneficial connections between foodservice and hospitality professionals from across the sectors. I look forward to seeing many old and new faces at the Arena Christmas Event."
Starting at 10.30am the Arena Christmas Event includes educational, engaging and inspiring speakers, plus valuable opportunities to interact with industry peers and experience the exceptional hospitality of the Mandarin Oriental Hyde Park during the drinks reception and three-course lunch.
Tickets cost £159+VAT for Arena members and £199+VAT for non-members. Tables of ten are also available to members and non-members at discounted rates.
For further information and tickets visit www.arena.org.uk/event/3556 or contact Lorraine Wood on lorraine@arena.org.uk / 07803 853 618.
Join the conversation @arenanetworking #Xmas2018