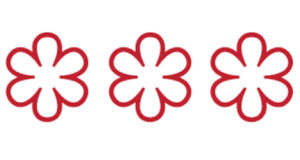 The MICHELIN Guide Great Britain & Ireland 2019 is published today with three new two-star restaurants topping the bill, ably supported by 21 new one-star establishments.
Three restaurants have been newly awarded-two stars: Kitchen Table at Bubbledogs in Bloomsbury from chef James Knappett; CORE by Clare Smyth in North Kensington (which goes straight into the guide for the first time with two stars); and Moor Hall in Aughton from Mark Birchall, which gained its first star last year.
Speaking about the new guide, Gwendal Poullennec, International Director of MICHELIN Guides said: "With so many world-renowned chefs, and London having one of the most diverse selections of cuisine types available anywhere in the world, the UK is a major gastronomic destination for travellers and foodies alike. With this in mind, the latest MICHELIN Guide Great Britain & Ireland perfectly reflects the strength, depth and diversity of the culinary landscape here."
Three pubs in England have entered the guide with one star for the first time: Blackbird outside Newbury; The White Swan in Fence, Lancashire; and, near Canterbury, Fordwich Arms in Fordwich, Britain's smallest town. In addition, Simon Rogan follows the success of two Michelin starred L'Enclume, with a star for his Rogan & Co restaurant in the same village of Cartmel and also for his London outpost, Roganic.
Commenting on the 2019 selection, Rebecca Burr, Director of the guide said: "The three owner-chefs at these new two star establishments have created fantastic restaurants that very much reflect their own personalities and philosophies.
"The inspectors have also seen exciting things happening in the Republic of Ireland this year and much of it in County Cork. The county plays host to three new one stars: Chestnut, Mews and Ichigo Ichie. There's a lot of ability in Ireland right now. As everyone knows, the produce is stunning and it's great to see chefs injecting such passion and personality into their food.
"Everyone is aware of the obvious challenges currently facing the industry, but we've been encouraged by the number of new stars that we've awarded in the 2019 edition. What is particularly pleasing is seeing the number of simple little places with great food achieving a star and joining the Michelin family, like Bulrush in Bristol and Salt in Stratford-upon-Avon."
London's gastronomic vigour is highlighted by its new one stars, which are all so different in their looks, their style and their cooking. Brat, in a room above a converted pub in Shoreditch, is all about cooking over fire, while the highly original Ikoyi in St James's introduces diners to the flavours of West Africa. Hide, opposite Green Park, was perhaps the most eagerly awaited unveiling of 2018 and marked the return of chef Ollie Dabbous. This bustling, three-storey all-day restaurant bucked the trend for small, intimate places. The Michelin inspectors were thrilled when the team behind Ellory opened their new place, Leroy, also in Shoreditch. Meanwhile, Nieves Barragán's Sabor shows what can be achieved when a chef puts their heart and soul into their own place.
Also published today is the MICHELIN Guide London 2019. This easy-to-use guide provides extended text and additional photographs of hotels and restaurants in the capital.
The 2019 selection at a glance:
5 three star restaurants
20 two star restaurants (3 new)
155 one star restaurants (21 new)
143 Bib Gourmand restaurants (27 new)