Caroline Benjamin Director of Food Allergy Aware is organising their 3rd Mock Trial Food Allergy Prosecution Event which takes place on Tuesday 26th September 2023.
Previous attendees of The Mock Trial have stated that The Mock Trial Food Allergy Prosecution was the best Food Safety Training Event I have attended!
Everyone involved in a food business operation has a legal responsibility to ensure that the products they supply are correctly described and safe to consume. The costs of getting it wrong are high. Failure to control risks in food safety can result in a criminal prosecution, regardless of whether any harm has been caused.
The expert Legal Team from Blake Morgan LLP and Six Pump Court Chambers will present the case for Prosecution and the case for The Defence. The Judge will preside over the Court and will make his decision based on evidence presented.
The delegates will assist the Judge in deciding the sentence by completing the exercise and applying the guidelines for sentencing which came into force in February 2016. You will have the opportunity to be part of the jury (in breakout groups) which will ultimately play a significant role in the final sentencing of the defendant.
During the Morning Sessions, attendees will listen to a variety of interesting speakers. Dr Belinda Stuart-Moonlight who was the expert witness in the Celia Marsh Pret a Manger case will explain the key findings from this case. We will also hear from representatives from The Food Standards Agency and Wakefield Council.
Other speakers include Iain Ferris from The University of Birmingham, who will discuss food laws and improvement notices.
Cressida Langlands from The Free From Awards will highlight the businesses who work hard to offer Free From products. Ruth Holroyd-What Allergy Blogger presents her own witness statement when she had a severe reaction eating out in a pub restaurant.
Sterling Crew, The President of the Institute of Food Science and Technology will host the event and make sure that everything runs smoothly.
There will also be an opportunity for all delegates to network and make new connections.
What past attendees have stated:
"I thought the event was excellent, FATC took an important but extremely challenging concept and alongside Blake Morgan, executed it superbly. The result was an incredibly informative and compelling conference" Tom Treverton Director F2F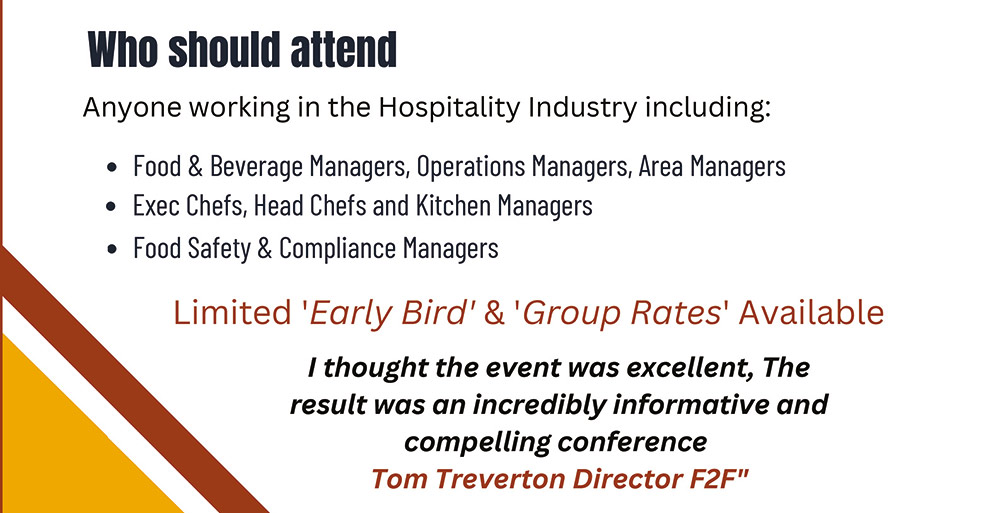 Early Booking is advised https://foodallergyaware.co.uk/events
Early Bird & discounted group rates for 5 or more available please contact Caroline Benjamin for further details admin@fatc.co.uk, or call 07732 637292.