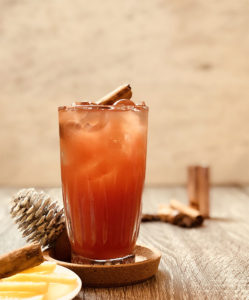 With Christmas around the corner, Clamato, the cult US tomato cocktail juice with a twist, are set to get people across the UK in the festive spirit with their next campaign, which involves sharing new recipes and working with British bartenders on a cocktail competition to come up with tasty new Clamato cocktails.
Especially for the festive season, the Clamato team have developed an original Christmas cocktail, the Mrs Klaus' Tipple. Guaranteed to keep cheeks nice and rosy, the delicious combination of succulent Californian tomatoes and savoury New England clam broth in Clamato juice, combined with the sweet almond decadence of Amaretto and fresh lemon, make a cocktail that will have your guests celebrating around the Christmas tree.
Raise a glass and have a merry little Christmas with Clamato!
Mrs Klaus' Tipple Cocktail Recipe
Ingredients:
– 30ml Amaretto
– 120ml Clamato Juice
– 20ml Lemon Juice
Method:
Add all ingredients to the glass and top up with ice
Stir and garnish
Garnish:
Cinnamon Stick
This recipe (plus many more) are available via the website – www.clamatoUK.com/recipes