Ingredients:
900ml Button Mushrooms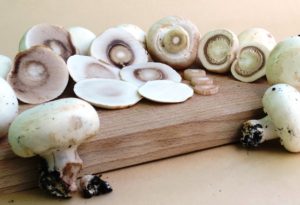 80g Foie Gras
200g Chopped onion
2 Tbspn tomato puree
4 Litre chicken stock
Salt
5 Egg whites
50ml Madeira
25g Dried cepes
10 Drops of Boletus flavouring
Method:
Blend the mushrooms in the robo to form a mince. In a heavy bottomed saucepan, melt the foie gras, add the onions and sweat without colour until soft. Add the tomato puree and cook out for a couple of minutes. Add the stock and bring to the boil. Add a tspn of salt then gently simmer for 30 mins. Pass the liquid through a chinois twice then allow to cool.
Slightly whisk the egg whites and whisk in to the mushroom stock. Place in a heavy bottomed saucepan and slowly bring to the boil, stirring the mix so the egg whites do not catch on the bottom. Gently simmer for 30 minutes to clarify. Leave the liquid to settle for 5 minutes. Pass the liquid through double muslin twice. Add the Madeira, dried cepes, and flavouring. Cling film and allow to cool. Re season, pass through muslin then store.