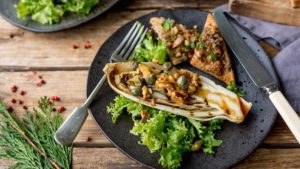 The earthy mushroom flavour combines with these mildly bitter greens and tangy dressing to make a wonderfully light starter.
Vegan
Ingredients:
For the mushroom pâté:
Serves: 4
Preparation: 10 mins
Cooking: 15 mins
• 1 tbsp melted coconut oil
• 1 small onion, finely chopped
• 1 clove garlic, crushed
• ½ tsp ground coriander
• 125g brown mushrooms, chopped
• 40g wholemeal breadcrumbs
• 1 tbsp soy or tamari sauce
• A little ground black or pink pepper
For the griddled chicory and curly endive salad:
Serves 4
Preparation: 5 mins
Cooking: 15 mins
For the main dressing:
• 2 cloves garlic, crushed
• 1½ tbsp extra virgin olive oil
• 2 tsp balsamic vinegar
• 25g walnuts
• 2 tsp pomegranate molasses
For the chicory:
• 2 tbsp olive oil
• 1 tsp light brown sugar
• 2 chicory, halved
• 2 tsp lemon juice
• 2 tsp capers
To garnish and serve:
• 25g curly endive leaves
• Toast, sliced
Method: 
For the mushroom pâté:
1. Heat the coconut oil in a frying pan and add the onion and garlic. Fry until the onions are translucent and beginning to brown.
2. Add the ground coriander and stir until well incorporated and you get a sweet aroma of roasted coriander.
3. Add the mushrooms and fry until cooked.
4. Stir through the breadcrumbs and the soy or tamari sauce until all the ingredients are well incorporated.
5. Finish with a little ground black or pink pepper.
6. Allow to cool and place in the fridge for 30 minutes before serving.
7. Serve on toasted sourdough bread with a garnish of chopped parsley.
For the griddled chicory and curly endive salad:
1. In a bowl mix together the first main dressing ingredients.
2. In a separate small bowl, mix the lemon juice, capers and sugar with the oil and then brush over the chicory.
3. Place the chicory halves face down on a hot griddle pan and griddle until slightly charred.
4. Turn over and cook the other sides of the chicory, adding a little more oil to the pan if necessary.
5. To serve: scatter endive on the plate, place chicory on top, drizzle with the main dressing from the large bowl and scatter over the capers.
6. This dish is best served straight away.
Typical nutritional values per serving
Energy: 334 kcals
Protein: 9.0g
Carbohydrate: 40.7g
Of which sugars: 7.8g
Fat: 13.4g
Of which saturates: 2.7g
Fibre: 6.6g
Salt: 0.9g
© The Vegetarian Society