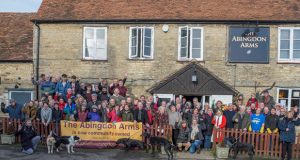 A major new funding programme from Power to Change has been announced to help communities seeking to save their local pub through community ownership. Speaking at Plunkett's Rural Community Ownership Awards in London earlier this week. Vidhya Alakeson, Chief Executive of Power to Change, made the exciting announcement that will see many more communities across England take control of their local pub with the support of community business experts, Plunkett Foundation.
This funding builds on the success of the current More Than a Pub programme, which is jointly funded by Power to Change and Ministry of Housing Communities and Local Government, led by Plunkett Foundation in collaboration with Key Fund, Co-operative and Community Finance, The Campaign for Real Ale (CAMRA), Co-operative Mutual Solutions, Pub is the Hub, Locality and the British Beer and Pub Association. To date, the More Than A Pub programme has supported 190 communities and seen 26 pubs open their doors under community ownership since 2016.
The community pub sector is not only thriving, it is bucking wider negative industry trends. Almost a quarter of privately-owned pubs has shut down since 2008, but community pubs have a 100% success rate.
Opening a pub under community ownership not only protects a valuable asset but also brings a wealth of social benefits and improves the wellbeing of local people, including those who socially excluded or isolated in the wider community in particular. Community pubs offer a range of services ranging from retail and post office, social clubs and volunteering opportunities.
The new programme will be active from Summer 2019 with further details to be announced in Spring 2019. This announcement indicates the commitment and support from both Power to Change and Plunkett to create a thriving community pub sector.
96 communities have already successfully opened their local pub under community ownership of their local pub, and many more currently working with the More than a Pub Programme have been listed as 'assets of community value' under community rights, highlighting the important role that pubs play in local communities.
Vidhya Alakeson, Chief Executive of Power to Change, said: "Community-run pubs are so valuable to the people who use them, offering a huge range of crucial services including lunch clubs for vulnerable people, training and development, gardening and cooking classes and parenting groups. The More than a Pub programme we have run with Plunkett has been an enormous success so it was a natural decision for us to continue to support this thriving and much-loved sector."
James Alcock, Executive Director of Plunkett Foundation, said: "This announcement is an endorsement of the role community pubs play in creating thriving communities and will strengthen the community pub sector by providing further support for those working to the tide on pub closures. For many, pubs are not just a place to drink; they are central to peoples' sense of place and identity, they provide an important space for people to meet and help to build community cohesion."
Community Pubs Minister Jake Berry said: "Pubs have and will continue to be at the very heart of our communities. The More Than a Pub programme is a fantastic example of communities taking ownership of their local assets, and it's great to see Power to Change supporting their innovative work for another year. I look forward to the continued partnership work in boosting the ever important agenda of empowering our local communities."