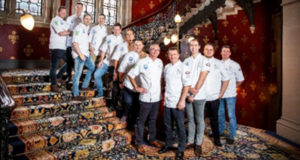 New 'Extra Mile' Award Created In Memory Of Talented Chef, Matt CampbellNext week the Craft Guild of Chefs will reveal the winner of The National Chef of the Year award, which is one of the most hotly-anticipated announcements in the chef world. For 2018, the Guild has introduced a new award which has been created in memory of talented chef, Matt Campbell, who tragically died running the London Marathon in April.
When judging The National Chef of the Year entries, it was found that Matt Campbell had not only entered the competition, but his menu had impressed the panel and successfully made it into the top 40. Judging of the dishes is completed anonymously so when compiling the names of the semi-finalists the organisers were sad to discover that Matt was unable to take his semi-final spot. The Kendal chef was running the London Marathon for The Brathay Trust in honour of his father, Martin. In the days following the run, thousands of people pledged to complete '3.7 extra miles' in memory of the MasterChef: The Professionals star.
Named the 'Matt Campbell Extra Mile Award', it will be presented to one of the ten National Chef of the Year finalists who has made a big impression on the judges, in both the build-up to and during the competition.
Revealing why this award is so special to The National Chef of the Year, organiser and Vice-President of the Craft Guild of Chefs, David Mulcahy said: "We wanted to recognise the work of not only Matt Campbell but also our ten dedicated finalists. Throughout the competition, we've been looking at every element of the chefs' work, not only when competing but also in the part they play as ambassadors for our industry. As the most prestigious chef award, we recognise the role NCOTY has in inspiring all those who work in hospitality and celebrating the positive work that goes on to attract and retain talent, promote culinary skills and encourage sustainability. I feel honoured to introduce this award and am looking forward to revealing our first winner next week."
The Craft Guild of Chefs will reveal the winner of the first Matt Campbell Extra Mile Award at The National Chef of the Year VIP celebration which takes place at Adam Handling's The Frog in Covent Garden.
If you are unable to make it to The Restaurant Show, you can discover who the winners of both the overall competition and this new award are by following the Craft Guild of Chefs and the #NCOTY hashtag on Twitter @Craft_Guild, Instagram @CraftGuildofChefs and www.facebook.com/craftguildofchefs.