PEPPADEW® – the UK's No. 1 pepper brandi – launches new PEPPADEW® Bites exclusively for foodservice.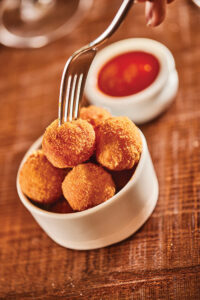 With 9/10 consumers looking to indulge when eating outii and 87% of consumers saying they'd order the new bitesiii, PEPPADEW®'s latest innovation is set to take menus by storm. Made in the UK, these delicious new bites balance the sweet, tangy flavour of their signature whole Piquanté Pepper, with a smooth soft cheese filling, coated in a crisp, panko-style crumb.
100% vegetarian, they meet the demand for tasty flexitarian options, as consumers continue to move away from meativ. Extremely versatile, they're perfect for starters, sides, tapas, bar bites, or as an addition to sharing-platters. Conveniently frozen, they can be ready in 3-4 minutes, making them the quick and simple way to pep up your menu. Crucially, these delicious bites can also drive margin, as over 50% of consumers would pay more for PEPPADEW® Bites than jalapeño poppersii, and each 5kg case offers a £200 return. Their frozen format, 18-month shelf life and versatility help minimise waste, providing a sustainable and cost-effective choice.
Speaking of the PEPPADEW® innovation, Lukasz Lubasinski, Commercial Director, PEPPACO Ltd. said:
"Now more than ever every part of your menu needs to taste great, work hard and most importantly drive spend and margin. PEPPADEW® Bites is an exciting, flexible and premium new product that works across a range of eating and drinking occasions as well as major trendsvi – from indulgence and meat-free to sustainability."

PEPPADEW® Bites are available through leading wholesalers including Bidfood, KFF and Eden Farms.
Visit www.peppadewfoodservice.co.uk for more information.