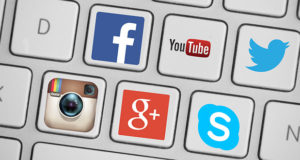 A survey conducted by leading regional law firm Howes Percival has revealed that 30% of businesses surveyed did not have a social media policy – potentially leaving them exposed to reputational damage, disclosure of confidential information and inappropriate or harmful content or behaviour.
The survey of 220 business leaders, representing a broad range of sectors and size of organisation, ranging from companies with a turn-over of less than £1m to global players with a significant sector presence nationally and internationally, was designed to examine the way in which businesses engage with social media.
LinkedIn and Twitter are the most used platforms for businesses and organisations, with the majority (86%) having a presence on LinkedIn and just over three quarters using Twitter.  Creating a brand identity, positive brand associations, and raising brand awareness were the predominant reasons for businesses' social media presence.
| | | |
| --- | --- | --- |
| Rank | Business presence on social media platforms | % |
| 1 | LinkedIn | 86 |
| 2 | Twitter | 78 |
| 3 | Facebook | 61 |
| 4 | Instagram | 24 |
| 5 | YouTube | 23 |
| 6 | Google+ | 21 |
| 7 | Pinterest | 11 |
In addition to building and raising brand awareness (49%), other core reasons businesses gave for maintaining a social media presence included improving communication and interaction with key audiences (21%), tracking competitors (10%) and increasing web traffic (9%).   Only 40% of respondents said they participate in discussion groups for their sector on social media.
The survey also questioned companies about their 'go to social media'.  The most used sites were LinkedIn (89%), Twitter (54%), Facebook (37%), Google+ (16%) and YouTube (11%).
Worryingly, 4% of the organisations surveyed admitted to having a significant issue with the misuse of social media and/or the internet in their business.
Commenting on the research findings, Edward Lee, Howes Percival Partner and corporate law expert said, "Regardless of the industry you operate in or whether your business is a multi-national or a one-man band, social media offers a great opportunity for companies to establish and promote their brands and products.  With millions of subscribers, they're also an effective platform to connect with customers.
"While social media is undoubtedly a great marketing tool, inappropriate use by employees can cause real problems.  We were concerned to see that nearly a third of companies don't have a social media policy to help guard against potentially damaging postings or online behaviour, such as harassment, by employees.  Thankfully, most companies said they haven't experienced any significant problems with their employees' online behaviour, but a small minority had.  Anecdotal evidence from our survey suggests that distractions caused by social media usage by employees, especially Facebook, while at work is a major concern for some businesses."
Edward Lee continued, "To help avoid social media pitfalls, companies should put in place a written social media policy.  This should be clearly communicated to staff and should outline if, and how, internet use is limited during working time and using company computers.  Sanctions for breaching confidentially online, or posting material which could damage the company's reputation, or making offensive or discriminatory comments, should also be included."