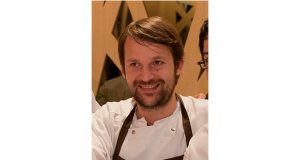 Copenhagen restaurant Noma 2.0 received two Michelin stars, regaining its respected rating after opening again in 2018 following relocation.
This week saw stars handed out for this year's Michelin guide to the Nordic countries at an awards event in Aarhus.
Noma's director Peter Kreiner said he was glad to see the restaurant's previous Michelin status returned.
"We have built a new restaurant, so it's lovely to be back with two stars. We are happy and proud," Kreiner said.
"This means that we're not the only ones who think what we do is good. So do professional people who come and judge us. And it really means a lot to us that they have come and made this assessment," he said.
The internationally-renowned restaurant opened at a new location near Refshaleøen in Copenhagen in 2018, with a new dining concept introduced. Its two stars show it is considered to be of the same high standard as before the temporary closure.
Gwendal Poullennec, international director of the Michelin guides, said: "The Nordic countries offer something truly unique and the diversity and buoyancy of the region's restaurant scene make it so appealing to food lovers from around the world.
"Chefs continue to develop both their own skills and techniques but also lead the way in reducing food waste, focusing on truly local ingredients and even embracing a more plant-based diet."