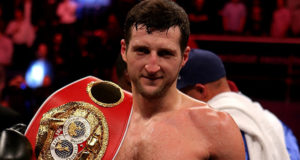 Boxing legend Carl Froch has finally revealed the opening date of his latest venture. Alto on the top floor of Nottingham's, The Cornerhouse, is set to open to the public on Friday 3 August at 4pm.
The bar's famous rooftop terrace has been completely refurbished for guests to enjoy the remaining summer sun on loungers with their favourite cocktail in hand and music from the outside DJ booth.
Inside, four bars will offer tasty drinks and tapas inspired dishes with a dedicated dance floor area and exclusive VIP section.
The new bar is part of a joint venture between Carl Froch, John Glover, Marc Brough and Rebecca Brough, who have a wealth of previous experience in the bar and restaurant scene.
Carl Froch said: "Alto is the only bar in Nottingham to have a rooftop terrace – there's nothing like looking at the city skyline with an amazing drink in hand surrounded by your mates. We want to be known as the place you go for a guaranteed great time – the new interiors, drinks, and entertainment on offer won't disappoint."
Marc Brough added: "People will associate Alto with a fantastic, fun night out. Yes, you can relax on the terrace and enjoy a drink but you can also finish the night on the dancefloor. The last thing we wanted was a bar where you have one drink and then you're bored – you'll find yourself getting up for one song and staying until we close."