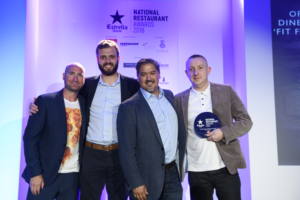 OpenTable, the world's leading provider of online restaurant bookings, has today announced the 2018 Top 50 Fit for Foodies restaurants in the UK. The annual list showcases the best 50 restaurants across the UK, reflected by the combined opinions of more than 730,000 reviews submitted by verified OpenTable diners at over 7,200 restaurants.
This year saw a growing number of restaurants from outside London take the leading spots in the top ten list. British restaurant, The Chef's Table, in Chester beat stiff competition across the country for first place with glowing reviews. Regions across the UK were well represented in the top 10, with Hampshire's, The Black Rat, and Glasgow's, Number 16 Restaurant, taking second and third place on the coveted list. Looking at the London restaurant scene, Mere and Pidgin were recognised, and awarded 7th and 9th place.
The Chef's Table team, including chef Liam McKay and co-owner Tom Hughes, received their award at Restaurant Magazine's National Restaurant Awards Ceremony on June 11th 2018.
 The Top 10 Fit for Foodies honourees, in order are:
 Adrian Valeriano, Vice President, Europe, OpenTable, comments "OpenTable diners are trusted sources for judging what makes a great dining experience. Through their continuous, valuable feedback from their own dining experiences, we're able to reveal some of the finest restaurants in the UK for all food fanatics. We're excited to see this year's top ten showcasing talent from various regions, highlighting the wealth of great restaurants from throughout the whole country."