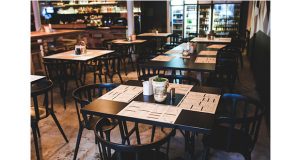 Over a third (33.7%) of UK diners reveal they've failed to turn up to their table booking without informing the restaurant at some point in their life. However, data from OpenTable finds that restaurant goers are less likely to no-show if they have made an online reservation. In 2018 only 4.4%* of online bookings through OpenTable in the UK resulted in a no-show, compared to 4.6%* of phone reservations.
The behaviour described as a 'no-show' is a concern amongst the UK restaurant industry, with independent restaurant owners to nationwide chains stating it can have a significant effect on business.
OpenTable, the online restaurant booking service, has unveiled a light-hearted campaign to encourage diners to 'book responsibly'. Designed to help educate diners on the impact that not cancelling a reservation can have on restaurants and highlight how it might feel if the roles were reversed.
"We can all be more aware of the impact that no-shows and late cancellations can have on a restaurant," comments Adrian Valeriano, VP EMEA, OpenTable. "We have launched this campaign to help build awareness amongst diners of the issue and showcase how we continue to leverage our technology and diner network in ways that only OpenTable can to help reduce no-show rates and mitigate the impact of late cancellations."
The external research carried out by OpenTable shows that young adults admit to being the worst offenders with a quarter (25%) of 16-24-year olds admitting to regularly failing to show up for their restaurant reservation. 9 out of 10Generation Z diners claim they have never stood up a first date (91.2%) or failed to show up to work without informing their boss (88.8%), but the same cannot be said for their attendance to restaurant bookings.
As expected, due to the vast restaurant selection, the city with the largest number of diners who admit to having no-showed for a reservation at least once in their life is London (40%). This is very closely followed by Manchester (39%)then Leeds (38.7%).
OpenTable's latest campaign flips the idea of no-shows to put the diner in the restaurant's position. By 'turning the tables' on diners, OpenTable hopes to highlight how a no-show can inconvenience the party on the receiving end.
Intrigued to understand the motivations behind those diners who do not stick to their restaurant reservations, OpenTable looked into nationwide diner behaviour. With the exclusive survey revealing that most UK no-shows (38%)claim it was too last minute for them to cancel their booking, OpenTable is keen to emphasise that any notice given to the restaurant is best. OpenTable's reservation management system opens up cancelled tables on the app immediately, so bookings can be maximised for the restaurant.
When it comes to no-show reasons, women also blamed their memory with almost 40% stating they forgot to cancel. Whereas a sixth of men said they didn't know how to cancel the booking.
Whatever the reason, most UK diners do show regret when they are unable to honour a reservation, with 71% feeling a pang of guilt for letting the restaurant down.
However, OpenTable understands that life happens, and diners may not always be able to make their booking for a variety of reasons. To reduce the risk of a no-show, reminder notifications are sent by OpenTable to ensure that should any unforeseen circumstances arise, diners are easily able to amend, change or cancel their reservation via the mobile app or website.
For those who repeatedly no-show for a reservation four times within 12 months, OpenTable will prohibit them from making future reservations on the app and website.
Adrian Valeriano continues: "Our approach to no-shows is to maximise the functionality of our technology to minimise the impact of them on both diners and restaurants. We're the only restaurant booking service that does not allow diners to make more than one booking for the same time slot, or within two and a half hours of that time, to ensure our diners commit to their reservations as much as possible.
By turning the tables on no-shows in our new campaign we want to educate diners about the impact of their booking behaviour and remind restaurants of the many ways OpenTable attempts to minimise the likelihood of no-shows."