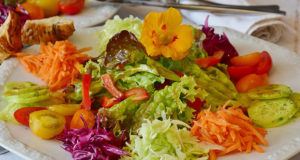 Over a quarter of UK residents identify as "meat-reducers," according to new research conducted by survey consultants Censuswide, commissioned by online veggie guide More Than Carrots.
According to the study of over 2,000 adults, many Brits are choosing to remove meat from most of their meals due to environmental concerns; a quarter are wary of their carbon footprint, and one out of ten are concerned about deforestation.
Over half of these environmentally conscious consumers decided to adopt the new diet in the last six months.
"Climate change is at a tipping point and a lot of people are beginning to realise the enormous impact that reducing meat in their diet can have on the environment," said Annette Burgard, the founder of More Than Carrots, in a statement. "Eating less meat is the one action every one of us can take every day and that is 100% in our control."
The study found that on average, UK meat-reducers spend nearly 15 minutes researching restaurants before eating out. According to More Than Carrots, this amount of prior research is necessary, as only half of the top ten restaurants from the National Restaurant Awards have meat-free options on their main menu. And in London, only 25 percent of main menu dishes are veggie. This is a fact that needs to change, says More Than Carrots, as nearly three-quarters of meat-reducers would avoid an establishment based on its lack of veggie or vegan options.
However, the veggie guide believes it has a solution to help environmentally conscious meat-reducers. Its new online guide and league table will help vegans, veggies, flexitarians, and reducers alike find restaurants and cafes across the UK capital with meat-free options.
"We have found that people struggle, especially at restaurants. To help them, we are providing the first guide that enables diners to directly compare restaurants, and visit the ones that make it easy for them to choose the most appealing veggie option," said Burgard. "We have compiled this list by using an algorithm to analyse and score restaurant menus reliable and at scale…we are starting in London today, but our ambition is to roll out our solution UK-wide."