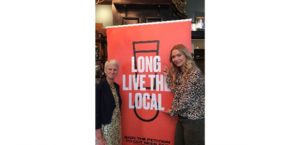 Publicans, including model Jodie Kidd delivered a petition calling for a cut in beer tax to number 10 Downing Street ahead of the forthcoming Autumn budget.
The petition organised by campaign group Long Live the Local has currently been signed by 113,000 people calling for a cut in beer duty to support local pubs following research which revealed that as many as one in 10 pubs may close over the next five years if the government does not take action.
According to Long Live the Local over 45,000 people have now written to their local MP since the campaign launched in July this year.
The campaign says that beer duty (tax) in Britain is three times the EU average. The government collects £3.5 billion every year in Beer Duty, as well as almost £10 billion in other taxes on pubs and brewers. Today one in every three pounds spent in pubs goes to the taxman.
Along with Business rates and VAT, Beer Duty is putting pubs under enormous pressure; every day pubs are closing their doors for good.
The industry needs a cut in Beer Duty, but the government is planning an increase. Beer Duty is now linked to RPI and that means it's likely that Beer Duty will increase by at least 3% at the next Budget and every year for the foreseeable future.
The last time Beer Duty increased year on year was between 2008 and 2013 when the government put a Beer Duty escalator in place. The impact on the beer and pub sector was catastrophic, within 5 years there was a 24% decline in beer sales, 5,000 pubs closed and 58,000 people lost their jobs.
Pubs, the campaign says are a British success story. They have been at the heart of British culture for generations and remain one of our most valuable assets. The pubs and brewing industries combined create jobs, encourage tourism, and most importantly provide a vital place for communities to gather.
Ms Kidd who is publican at the Half Moon in West Sussex said local pubs like my own bring people together and are at the heart of communities. However mounting financial pressures mean that for many it is already a struggle just to keep the doors open. I am at Downing Street today to deliver the Long live the local petition because, along with 105,000 other people I believe the Chancellor must act now to protect our local pubs an increase in beer duty on October 29 will continue to cripple our pubs with communities bearing the cost"