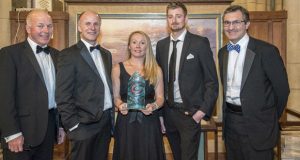 The iconic Pandora Inn at Restronguet Creek has come out top at this year's Cornwall Tourism Awards yet again, taking Gold in the Tourism Pub of the Year category.
While in itself a fine achievement, the fact that the historic 13th century pub was almost wiped out by a blaze that engulfed the building back in 2011 makes the prize even more significant.
What's more, this latest accolade is just one of fifteen awards picked up by the perennially popular Pandora over the last six years since the fire in the same category, including 6 golds at the CTAs, 3 at the South West England Tourism Excellence Awards and a Bronze at the Visit England Awards for Excellence.
Remembering the day of the disaster, Brewery Property Director Adam Luck said, "The Pandora fire was that perfect storm – a rogue spark from one of the welcoming pub fires and a thatched roof, dry after a warm, sunny spell. What we saw once the fire was extinguished was heart-breaking but we promised to rebuild and looking at the Pandora now it's hard to imagine the full extent of the damage that was done on that dark day."
Within 12 months, the doors were open for business once more and the team at the Pandora picked up its first post-conflagration award; Gold at the SW England Tourism Excellence awards.
Commenting on the continued success enjoyed by the Pandora, Malcolm bell, Chief Executive at Visit Cornwall said: "Attracting visitors to Cornwall and offering them distinctive experiences is what underpins everything we do at Visit Cornwall and the Pandora Inn has proven time and time again to be the very epitome of that ethos. Their recipe for success is simple; a warm welcome, great local offerings and excellence in service. It really isn't any surprise that they are such prolific award winners and we congratulate John, Steve and the team on yet another fantastic year."
Taking up the reins of the St Austell Brewery owned Pandora back in 1999, publicans John Milan and Steve Bellman have continually pushed the boundaries in terms of team training and customer service but this year's CTA Gold means a lot more, as Steve explained: "The Pandora has always been a special place, not just because of its location and heritage. It means so much to us because it means so much to so many people – both those who live locally and have loved it for generations and for those who travel so far to come and visit. This award is testament to the hard work of everyone at the Pandora to make sure we look after all of our guests and we're very proud to have this recognised at such a high level."