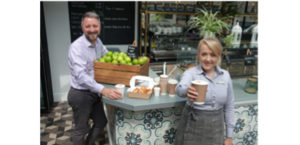 A York hotel is carrying out a wide-ranging review of its use of plastic in a bid to significantly reduce its reliance of the environmentally harmful product.
The audit is being undertaken by members of the DoubleTree By Hilton York's recently formed Care Committee, who will closely look at each department in turn, before making their recommendations to the management team.
This will include the use of plastic straws and disposable coffee cups within The Yorkshire bar and grill and courtyard café, through to toiletry containers and bin liners in housekeeping and disposable bottles and pens in conference rooms.
Additionally, suppliers will also be asked to look at how they deliver their goods and services to the hotel, including food, beverages and bedding.
It has been estimated that in the UK alone 4.4 billion plastic straws are thrown away each year.
DoubleTree By Hilton York General Manager Graham Usher said: "We pride our self on being an environmentally responsible hotel and, as such, are now conducting a major review of our use of plastic.
"But we are wanting to do more than simply banning plastic straws. We believe we can go further and the findings of the audit will steer us in the right direction.
"The Yorkshire bar and grill is the natural place to start, as we do use plastic straws, and disposable coffee cups for customers ordering a 'takeaway'.
"And, as Chair of York Hoteliers' Association, I will be not only sharing our findings with my colleagues, but also encouraging them to follow suit."