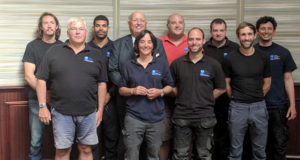 One of the oldest hotels in Portsmouth is fast establishing a reputation for hosting some of the most respected naval archaeologists in the UK.
A mixed team of maritime archaeologists and ex-service personnel divers have just completed an eight week stay at the Royal Maritime Club while working on the excavation of HMS Invincible, which is located in the Solent.
The dive team is assembled thanks to a £2million LIBOR grant to conduct an emergency rescue excavation of the Royal Navy's site. The Maritime Archaeology Sea Trust (MAST) is leading a partnership with Bournemouth University (BU) and the National Museum of the Royal Navy where the artefacts will be exhibited once conserved. BU is running the diving operations.
The French ship – built in 1744 – was captured by the British in 1747 and used by the Royal Navy until it sank to the sea bed in 1758 after hitting a sandbank. It is believed to be one of the most significant warships ever built.
Jessica Berry, chief executive of the Maritime Archaeology Sea Trust, said: "The Royal Maritime Club is a superb venue and suits us well. Its location is ideally placed for access to the docks and because of its own history and links with the Royal Navy, the hotel is hugely atmospheric and inspirational. The service is superb, and nothing is too much trouble for the team there. We will definitely be returning."
General manager John Alderson said: "We are very proud that such an important project was based at the hotel. Our whole ethos is to deliver a bespoke service so I'm personally delighted that the team had such a positive experience. We very much look forward to welcoming them back next year."
The Royal Maritime Club, which is one of the oldest hotels in Portsmouth, was established in Queen Street in 1850. As a sailors' home, it was set up to look after sailors and marines. who were "between ships". The club gained charitable status in 1883. Membership is open to all serving and retired members of the Armed Forces and their families as well as those of the Royal Navy, Royal Marines and Merchant Navy, for whom it was founded.
Today the Club has also built up an enviable reputation with tourists and business people alike. It has 100 bedrooms, restaurant, function rooms and an indoor swimming pool, and is situated in the heart of the heritage area so perfectly located for visits to the historic dockyard.
The team has so far uncovered a number of artefacts including one of the ship's cannons and a range of other weaponry like swivel guns, which brings to light the nature of warfare in this period of naval history. It is planned that the excavated materials will go on public display.