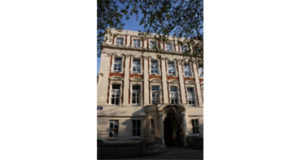 Great Ormond Street Hospital has announced plans for The Sight and Sound Centre, supported by Premier Inn and Restaurants.
The centre, due to open in 2020, will be the first dedicated medical facility for children with sight and hearing loss in the UK.
Currently patients with conditions that affect their ability to see and hear represent the largest outpatient group at the hospital, with more than 8,000 patients and 25,000 patient visits each year.
The Sight and Sound Centre, located just a short walk from the main hospital site, will be specially designed with these patients in mind with the cost of the building being met through charitable donations.
The new centre will include:
Specialist facilities for outpatients being seen by Audiology, Cochlear Implant, Ophthalmology, Ear Nose and Throat and Speech and Language Therapy teams
State-of-the-art soundproofed booths for hearing tests, an eye imaging suite, a dispensing opticians and other testing facilities
A garden with plants designed with the senses in mind, for children to see, touch, and smell
Specially commissioned artwork throughout the building that incorporates bespoke sensory elements thanks to the hospital's in-house arts programme GOSH Arts.
Fundraising towards the £25m project has already begun, with an incredible £10million pledge from Premier Inn and Restaurants, building on their team members, customers and suppliers remarkable feat of raising £7.5 million for the hospital's new Premier Inn Clinical Building, which officially opened earlier this year.
Children with sight and hearing loss and their families were involved in the design briefing of this specialist facility, helping to create a welcoming environment that is fully accessible and easy to navigate.
Construction is due to start in the Autumn of 2018 and will take eighteen months, led by healthcare construction specialists Kier and architects Sonnemann Toon, who have a successful track record in converting listed buildings into unique clinical spaces.
The Hospital's Chief Executive Dr Peter Steer said: "More than 8,000 children and young people with sight and hearing conditions come to the hospital each year and our current facilities do not cater for their needs. The Sight and Sound Centre will improve care by bringing clinicians supporting these children together in one place and vastly improve the patient experience by creating an environment tailor made to these patients' needs.
Tim Johnson, Chief Executive of Great Ormond Street Hospital Children's Charity added "We're absolutely delighted to be able to support this very important project providing fantastic new facilities for children who experience sight and hearing loss.  We're hugely grateful to Premier Inn and Restaurants for their incredible pledge of £10 million. We hope that pledge will be matched by the generosity of other supporters and we are optimistic about reaching the £25m target by 2020"
Alison Brittain, Chief Executive Officer of Whitbread (the owners of Premier Inn and Restaurants) said: "We're delighted to be supporting this ground-breaking and unique new project at Great Ormond Street Hospital. We have been proud supporters of this very special hospital since 2012 and have seen first-hand the extraordinary difference being made to the lives of the young children and families receiving treatment there.  We're excited to continue our story with Great Ormond Street Hospital by committing our support to the new Sight and Sound Centre"
For more information on the Great Ormond Street Hospital Sight and Sound Centre please visit gosh.org