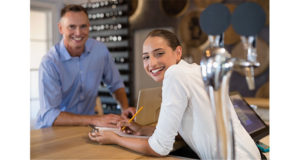 Pubcos around the country are to receive training on how to spot the warning signs of mental health issues amongst their workforce, and how to deal with problems, under a ground-breaking new initiative being launched by the Licensed Trade Charity.
To coincide with World Mental Health Day on Wednesday 10th October, the Licensed Trade Charity will be launching two regional 'Mental Health & Wellbeing In The Workplace' events for managers. This will begin the drive to help pubcos, bars and breweries increase the level of support they can offer staff with mental health issues. Initial training sessions to be held in London and the Midlands in the autumn will be followed by others around the country in 2019 to ensure industry-wide coverage and increased knowledge of a vital topic. The one-day training sessions will enable managers to develop a greater knowledge of the most common mental health issues in the workplace, how to best support someone with mental health problems and give managers the confidence to deal with difficult situations that may arise.
60% of UK employees have experienced a mental health issue where work was a contributing factor, and 31% have been formally diagnosed with a mental health condition1. With the cost to employers of mental health issues at work reaching £34.9 billion for the year 2016/17 through sickness absence, reduced productivity and replacing staff2, this vital issue is now set to be tackled within the drinks trade.
A grant from the Worshipful Company of Innholders to the Licensed Trade Charity has enabled the charity to set up nationwide training sessions in conjunction with Care First, whose team of counsellors have specific knowledge of the nature of the drinks industry and what issues staff may face. Care First provides the charity's free industry helpline which gives pub, bar and brewery people valuable assistance and support on a range of issues from money worries to housing, health and retraining, with the option of up to six free counselling sessions to help staff directly with mental health issues.
The Licensed Trade Charity's Charity Services Manager Carolyn Jenkinson said: "Many of the calls we receive from pub and bar staff seeking help involve mental health issues. Whilst in most cases managers are sympathetic to their staff's problems, they often find it difficult to know what to say or do to help. This breakthrough training for the industry will give managers the confidence to help, making them feel comfortable talking to people who have mental health issues".
Operators who would like to register their interest in this exciting new initiative, and attend one of the Licensed Trade Charity's free mental health training events, should contact Carolyn Jenkinson – carolyn.jenkinson@ltcharity.org.uk.