Glebe Farm: The Purest British Oats
Pure, locally grown, gluten-free: Nobody does oats better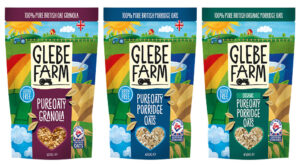 Oats are a natural superfood. They are packed full of the vitamins, minerals and soluble fibre that helps support a healthy gut, and they are also naturally gluten free.
Unfortunately, many of the oat-based products on supermarket shelves today are milled and manufactured at facilities that also process grains like wheat, barley or rye. This leads to contamination of the oats meaning they lose their purity and become unsuitable for the 1 in 100 of those who are coeliac , or the estimated 10% of UK consumers now following a gluten-free diet.
It was this gap in the market that saw sister and brother team, Rebecca and Philip Rayner, dedicate themselves to producing truly gluten free oats. An independent Cambridge farm and dedicated gluten-free site since 2010, Glebe Farm is the only farm in the UK growing and milling gluten free oats.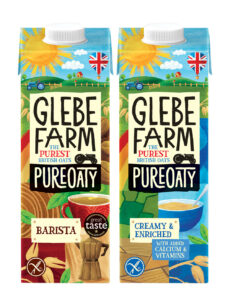 Glebe Farm's wonderfully pure British oats are ready to be used by manufacturers and bakers, and are also used in their gluten free oat drink, PureOaty. The PureOaty range has been designed as the perfect pairing for barista quality coffee, but is also great with cereal or in a smoothie. The range includes: PureOaty Barista, PureOaty Creamy & Enriched, and PureOaty Organic Barista.
Packed with all the delicious flavour, creamy texture, and delightful frothiness that characterises the best oat drinks, unlike many others on the market, PureOaty never uses concentrate or syrup. The only ingredients you'll ever see on the cartons are oats, water, sunflower oil, and salt.
And it's not just oat drinks, the same oats can be found in Glebe Farm's own brand of gluten free porridge oats and granolas.
100% sown, grown, milled and packed in the UK, the second-generation farmers at Glebe Farm know where every single oat that goes into their products comes from. That means every oat leaving the site is guaranteed to be of the best quality and 100% gluten-free. Even better, being British grown and produced means they have the lowest food miles on the market, making them the top choice for sustainable oat products.
For more information, please visit www.glebefarmfoods.co.uk