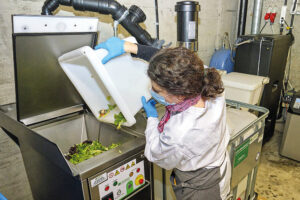 The UK government aims to stop food waste to landfill by 2030.
In China, menus now note the weight and content of a dish to stop overordering. In the US, $370 billion in clean energy solutions is pledged by the Biden-Harris administration, which allows hospitals and universities to fund food-waste-to-energy recycling technology.
Dishwashing manufacturer Meiko is at the forefront of rapidly developing food waste recycling technologies across Europe. Food waste naturally comes back to dishwash areas and exciting changes are coming to suit large-scale caterers like hospitals and small-volume food waste producers such as high street restaurants, cafes and takeaways.
Anaerobic digestion will be at the heart of future solutions because it is self-funding and generates clean energy and fertilizer.
Small-scale waste producers could benefit from collaboration. Shared local recycling by high street cafes and restaurants could see farms and growers buying the fertilizer while local homes and businesses use the energy.
Big waste producers, such as hospitals, universities and food manufacturers will have on-site recycling systems that capture, process and store food waste before sending it for processing to generate energy.
The future is wide open for the rapidly developing AD technology, which is experimenting with mixing different waste streams to generate even more power than each stream separately.
One thing is sure, caterers and food waste processing plants will help power the nation in future.
PAUL ANDERSON, MD, MEIKO UK
Meiko manufactures the MEIKO GREEN BioMaster® waste recycling system, which converts frying oil, coffee grounds, fats, peelings, plate waste, flower stalks etc., into fuel for anaerobic digestion.
BioMaster comes in small, medium and large-scale solutions. It's very hygienic, easy to use, fits into countertops or works as a stand-alone unit. And it is easy to share!