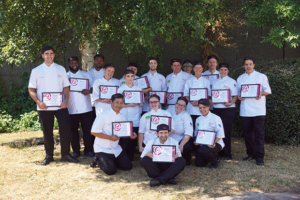 18 aspiring chefs have graduated from Elior's award-winning Chef School; the nine-month training programme which gives people in non-culinary roles the skills and confidence they need to start their careers as chefs.
The 2018 class were awarded their certificates after catering for 50 guests attending the graduation lunch at Coventry College, Henley Campus. The lunch – which students ran with a telling maturity – saw them showcase several of their newly found skills, including making fresh pasta for the mushroom, spinach and mascarpone tortellini and filleting the seared chalk steam trout for the main.
Stuart Nisbet, who led the design and delivery of Chef School, said: "Chef School continues to go from strength to strength and attracts more and more talent each year. Not only because of the skills students learn, but the experiences it affords them. Seeing so many students graduate this year is incredible. It's great news for the future of Elior, for the industry as a whole, and for our 2018 graduates. For them, this is just the beginning."
As part of their training, past students have worked alongside some of the industry's biggest players, including Jason Atherton, Anton Edelmann, and master chocolatier William Curley. And earlier this year, graduates from the 2017 class worked alongside the likes of Tom Kerridge, John Williams MBE, and Claire Clark MBE to serve hundreds of guests at the Elior's 'Inspirational Dinner'.
Leeann McFaddan, Poppy Court, said: "Chef School has been eye opening for me. It's given me the confidence and skills to take on a chef apprenticeship and made me feel really positive about staying in the industry."
Now in its fourth successive year, Chef School has delivered 163% return on investment and seen a total of 75% of graduates start their dream jobs as chefs – with many of this year's intake expected to follow suit soon.
2018 Chef School Graduates:
Evelyn Woods (BT Greenock), Joy Hammel (Barnaby House), Jessica May Gardiner (Micromass), Tiffany Nicholls (Manor Hospital Walsall), Anton Webb (St Rumbolds Court), Adele Bray (Glenhills Court), Leeann McFaddan (Poppy Court), Andrea Antili (Polygon), Mohammed Hajjar Kouay (Schroders), Liam Fraser (Capula Investment), Diana Covelli Cuellar (Lloyds of London), Emanuel Forbs (Savills), Mohamed Bouchia (Support Team, Lexington), Ramesh Joshi Kumar (Schroders), Paulo Figuereido (Linklaters), Jowita Zylka (BT Hatfield), Carlos Quintero (ICBC Standard Bank), Isaac Jepson (Omnicom)