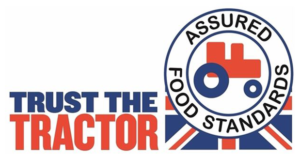 Red Tractor is getting ready for its annual Red Tractor Week (10-16 September) to raise the profile of 'traceable, safe food that is farmed with care.'
Taking place across the country, the national initiative calls on consumers and producers alike, encouraging them to get involved by buying Red Tractor certified products; cooking them at home; and engaging on social media.
With the focus on a key ingredient each day, consumers can get ahead and prepare the dishes they want to cook.
Monday 10th– Vegetables and crops for main courses and desserts
Tuesday 11th – Dairy
Wednesday 12th– A chicken dinner for Back British Farming day
Thursday 13th– Pork
Friday 14th– Cereals
Saturday 15th– Fruit
Sunday 16th- Beef and Lamb
Chief executive Jim Moseley explained: "We know that an increasing number of consumers are concerned about where their food comes from and how it has been produced.
"We want to remind everyone that (Red Tractor) does the checks so that you don't have to. Our team takes pride in bringing people the traceable, safe, quality food that they deserve.
"You can Trust The Tractor.
"Every working day in the UK, independent inspectors conduct more than 230 in-depth inspections, that's more than 60,000 each year. The vast majority of farmers do an outstanding job that is recognised around the world for excellence.
"The UK and Red Tractor have some of the most comprehensive and robust farming and food standards in the world.
"It is of critical importance that government understand this and the value that Red Tractor can bring to the future of British food and farming."