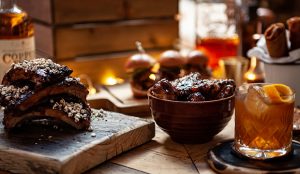 Expanding pub, bar and rooms operator, Redcomb Pubs Ltd, run by Dan Shotton and Mark Draper, announces the launch of a new pop-up saloon bar in collaboration with Diageo PLC to further expand and strengthen their central London bar portfolio.
Part of Redcomb's new Urban Social division, focusing on creating independent and on-trend social drinking and dining venues across the capital and beyond, Double Barrel pop-up saloon bar will take up residence above one of the groups most successful London city pubs, The Theodore Bullfrog in Charing Cross.
A bespoke collaboration with Diageo, the world's largest producer of spirits and a key producer of beer, Double Barrel will focus on offering an immersive whisk(e)y experience in the heart of London centred around anchor brands, Bulleit Bourbon, Johnnie Walker, Haig Club and Tanqueray.
Opening on Wednesday 7th November, Double Barrel will exude bourbon-scented cool, with high-end whisk(e)ys on offer alongside barrel-aged, seasonal cocktails and seriously dark spirited bar bites. The décor will centre on a backdrop of reclaimed barrels and timber cladding, a panelled bar teaming with bottle after bottle of whisk(e)y and an atmospheric, candlelit saloon.
Double Barrel will feature a menu of boozy yet refined cocktails, devised and deployed by Chris Edwards of cocktail consultancy, Salts of the Earth and well-known bars, the Shrub & Shutter in Brixton and recently opened Alphabet Bar in Upper Street.
Catering for up to 75 seated or 100 standing guests, Double Barrel will also be available for private hire and celebrations, plus will play host to a calendar of whisk(e)y tasting and cocktail making masterclasses.
Commenting on the collaboration, Mark Draper, executive director at Redcomb Pubs Ltd says;
"The Theodore Bullfrog has long been one of our most popular and frequented pubs, with a core following amongst local corporates and patrons. Incorporating a new pop-up offering upstairs at the venue gives us a tremendous opportunity to work the pub's space harder and capitalise on the ever-expanding footfall within the area. It also offers us the opportunity to further stretch our new Urban Social division of the company, creating a unique and immersive experience for Londoners underpinned by the strong working relationship that we have with one of our key trade partners, Diageo."