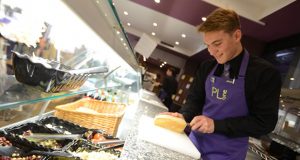 City College Plymouth has received over £58,000 of funding from The Savoy Education Trust to refurbish its student-run deli bistro where catering students develop and hone their culinary skills.
'The Deli' will benefit from a new serving counter, bar and an electric induction range, as well as improved tables, chairs and crockery. Work on the revamped eatery is expected to be completed by mid November.
The funding grant will also enable the College's popular Junior Chef's Academy to run for another year, offering young people between the ages of 14 and 16 the chance to get a flavour of cookery in a nine-week after school masterclass.
With plans in the City for more hotels and the potential impact of Brexit on this sector's workforce, City College Plymouth is taking a proactive approach to develop the skills pipeline needed for the sector and region.
Karen Dorow, the College's Director of Business, Hospitality, Care and Lifestyle, said: "This funding ensures the delivery of our training programmes in a realistic professional working environment which is in line with modern industry standards; thus raising the opportunities and aspirations of both our students and Junior Chefs."
Amanda Lumley, Executive Director of Destination Plymouth, said: "The hospitality and catering sector is incredibly important in Plymouth representing over 7% of employment and is suffering from a severe skills shortage. This is a real threat to Plymouth and the South West's tourism industry, so it is vital we encourage young people to get involved in catering and consider it as a serious career choice. Programmes like the Junior Chefs Academy and enabling young people to learn in the best facilities which truly emulate the real life working kitchen set-ups are invaluable to securing the future of our region's catering industry."