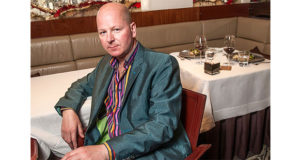 Restaurateur David Moore, owner of of Michelin-starred restaurant Pied-à-Terre, has called for immediate action to be taken to save businesses and ultimately jobs with a thorough review of a sales tax as an alternative to business rates and to give the restaurant industry breathing space with a reduction on VAT for food sales.
Restaurant chains such as Gaucho, Jamie's Italian, Prezzo, Byron and many others have respectively succumbed to the state of the industry and been forced to close outlets across the UK to restructure. With no sign of respite and with more than a third of the UK's top 100 restaurants losing money, restaurateur and consultant Moore is now spearheading a campaign to get businesses out of the red and save the high street, and needs the support of Parliament to make this a reality.
Moore has also called for leaseholds to be reviewed as tenants are trapped in upwardly moving only clauses meaning rental costs are constantly increasing.
Moore would like Mayor Sadiq Khan to discuss and tackle the poor state of the High street to save both popular food chains and small family and independent businesses.
The restaurant businesses on the High Street which employ hundreds of thousands of people in the UK are trying to support their families all over the country and need urgent help to survive.
For further details visit https://www.change.org/p/sadiq-khan-reduced-vat-and-explore-alternatives-to-business-rates-across-the-united-kingdom