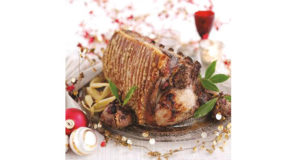 Indulge your taste buds with this delicious roast pork recipe that uses sloe gin and walnut to create an irresistible stuffing. Serve with stuffing balls and all the traditional trimmings for the ultimate Christmas treat!
Serves: 4-6
Cooking time: 30 minutes per 450g / ½kg (1lb)
plus 30 mins (medium)*
Ingredients:
1kg (2.2lbs) Lean pork loin joint on
the bone
50g (2oz) Dried cranberries
60ml (4tbsp) Sloe gin
50g (2oz) Walnuts
Stuffing:
450g (1lb) Pork sausage meat
(about 6 sausages)
100g (4oz) Breadcrumbs made from
stale bread or fruit loaf
Pinch mixed spice
Pinch cinnamon
Method:
1. Preheat oven to Gas 4, 180ᵒC, 350ᵒF.
2. Place cranberries in a small bowl with the sloe gin and allow to soak for 30-60 minutes.
3. Dry the outside of the meat and score deeply using a sharp knife.
4. Place into a bowl the sausage meat, breadcrumbs, spices and walnuts. Mix well together.
5. Carefully take joint and make a deep large cut into the fatty point of the meat (not through the eye of the meat but towards the edge where the meat is most fatty).
6. Add the cranberries to the stuffing and mix thoroughly.
7. Take the stuffing and push into this hole. Any remaining stuffing can be shaped into large balls & cooked alongside the joint for about 20 minutes.
8. Weigh the stuffed joint and calculate the cooking time*
9. Brush with oil and sprinkle on salt and rub into the fat. Place on a rack in a roasting tin and open roast in a preheated oven for the calculated time.
10. Remove joint from the oven and allow to stand for at least 10 minutes before carving.
11. Save the cooking juices to make the gravy & add a good measure of Sloe gin to the gravy while making.
12. Serve with the stuffing balls (if made with any remaining stuffing), roasted parsnips and all your favourite traditional trimmings – Happy Christmas!