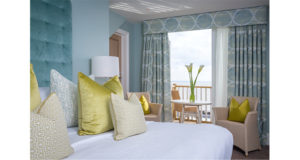 Roslin Beach Hotel, a luxury 62-room coastal hotel in Southend's Thorpe Bay area, is one of only nine independent hotels in England, and the only one in Essex, to be awarded a prestigious VisitEngland Four Star Gold rating.
According to VisitEngland's stringent assessment system, the Gold Award is only given to properties in recognition of exceptional quality within a hotel's star rating, or for outperforming its star rating. These awards are designed to help guests find those special places where the hotelier and team go the extra mile.
Roslin Beach also retained its Breakfast Award, achieving exceptionally high scores for its morning offering based on choice, quality, presentation, produce and service.
A spokesperson for the VisitEngland Assessment Team commented:
"The Roslin Beach Hotel is a unique property offering the highest standards of hospitality, accommodation, food and cleanliness. The recent physical changes to the property cannot fail to impress guests and we were particularly blown away by the service – the team, without exception, made guests feel wanted and the purpose of their day."
Jacqui Dallimore, Managing Director, Roslin Beach Hotel said:
"This is an incredible achievement for the hotel and the team. The wonderful comments made by the assessors mirrors our aim to provide only the highest levels of service, hospitality, comfort and food."