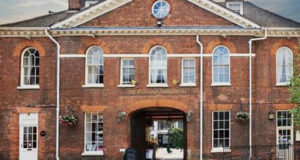 The 3-star Rutland Arms Hotel has been awarded a 5* Food Hygiene rating, the highest possible grade from the Food Standards Agency.  Situated at the top of Newmarket High Street, the hotel was acquired in March 2018 by Review Hotels Ltd, which also owns Newmarket's 4-red star Bedford Lodge Hotel & Spa.
The Hotel's 5* Food Hygiene achievement recognises the importance of food hygiene within establishments and includes: cleanliness of facilities, food storage, food preparation and food safety.  Review Hotel's LTD have implemented several efficient changes in a short space of time using the guidance of Bedford Lodge Hotel & Spa's existing Executive Head Chef, Sean Melville, who oversees both hotels' restaurants. In succession of this, the hotel also boasts new menus for guests to enjoy and new kitchen equipment.
Noel Byrne, Chief Executive at Bedford Lodge Hotel & Spa, said: "The timing of the Food Hygiene inspection, so soon after the acquisition of the Hotel, goes to show how quickly we have been able to positively impact the Hotel on a day to day basis. Cosmetic refurbishment is also already underway, so there is a great deal of tangible improvement to be celebrated after just a couple of months under new ownership.
"With substantial investment, wider scale refurbishment of the property, and the creation of new jobs also in the pipeline, there is plenty for the Hotel's guests, diners, and staff, as well as the local community, to be excited about in the future, too."