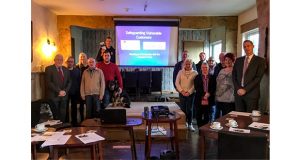 More training has been provided to pub landlords and their staff in safeguarding vulnerable people, including safeguarding children from child sexual exploitation and County Lines, thanks to a joint initiative supported by Nottinghamshire Police and Crime Commissioner Paddy Tipping.
This is part of ongoing safeguarding training taking place all over the county and being given to licensed premises and staff. To date 200 staff within licensed premises have been trained.
The county initiative has received funding from Nottinghamshire Police and Crime Commissioner (PCC) Paddy Tipping, after a Local Alcohol Action Area programme received support for the second year running.
Among the aims of the programme are to prevent alcohol-related crime and disorder and to reduce alcohol-related harm to people.
Local Alcohol Action Area Two covers areas of the county including Mansfield, Ashfield, Broxtowe, Gedling, Rushcliffe, Bassetlaw, Newark and Sherwood. This initiative will run until March 2019.
Nottinghamshire Police Licensing Enforcement Officer Paul Horton and Broxtowe Borough Council Licensing Manager John Miley presented safeguarding training to landlords and their staff at The Foresters Arms in Newthorpe, Nottinghamshire, on Thursday (22 November 2018).
Mr Horton said: "Safeguarding is everybody's business. This awareness training is aimed at the licensed trade and covers safeguarding, child sexual exploitation and County Lines issues.
"We all have a responsibility to safeguard customers in licensed premises and under the Licensing Act 2003, premise licence holders and designated premise supervisors have a legal responsibility to make sure this is done, particularly in relation to children and young people, and that they are protected from harm."
Mr Miley said: "Licensing officers across the county are working in partnership with the police to deliver the training to licensees and staff of licensed premises.
"The training will assist them in recognising and dealing with the issues arising from safeguarding, both for adults and children.
"The Licensing Team at Broxtowe Borough Council is delighted to be at the forefront of delivering this training initiative. Feedback from those who have attended the training has been extremely positive and we look forward to ensuring that licensed premises in the borough and across the county are a safer place for all."
Nottinghamshire's Police and Crime Commissioner Paddy Tipping said: "Over the last few years we have strengthened the work to tackle alcohol-related harm and I think we are seeing real progress.
"At the end of the day, people simply want to go out and enjoy themselves in safety. That's why we're doing everything we can to ensure that young people, particularly those who may be vulnerable, have a safe night out with access to support if needed and I believe that this training will help to prevent problems before they happen. I'm pleased to have been able to fund it."