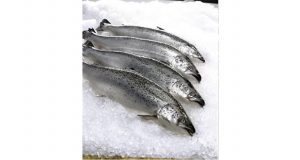 Purchasing company Beacon have warned that salmon, a popular festive alternative to turkey will increase in price in the lead up to Christmas.
Salmon pricing set to increase
Fresh Salmon prices have continued to exceed those seen last year and despite traditional pricing trends continuing throughout the rest of October, there will be a more gradual week on week rise in the run up to Christmas. Salmon harvest weights are normalising in Norway, but increasing levels of sea lice in the West region could have an impact on the amount of the fish able to be exported, which will naturally add pressure and drive prices up.
Fresh tuna
Prices of fresh tuna should remain stable in the run up to Christmas, offering a great alternative. Monsoon season has subsided meaning the fresh tuna supply will return to full strength. Tuna is a great pick for winter, with barbecuing options adding a point of difference to menus.
Seasonal price increases
Price increases are expected on Scallops, Wild Turbot, Gurnard, Pollack, Whiting, Red Mullet, Lemon Sole, Mackerel and Monkfish this festive season due to lower landings caused by poor weather. As we enter the winter months, we approach the end of season for Dover Sole, Lobster, Flounder, Grey Mullet, Megrim and Sprats. Operators should make the most of pricing now as many will continue to rise in the lead up to Christmas, and consider switching up menus to improve gross profit.
Alice Bexon, Purchasing Manager at Beacon, commented:
"In order to satisfy consumer cravings but also generate profits this festive season, when fish is a popular choice, operators should take advantage of trends and demands, as well keeping an eye on price changes, and be adaptable where they can."