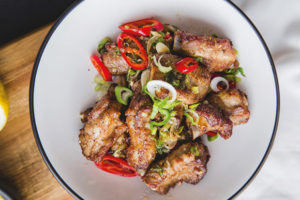 Established by Mr Wing Yip and his brothers, and now with two generations of our family at the helm, the company has rapidly become one of the most celebrated stores, sourcing and supplying authentic ingredients to the UK's Chinese and Asian restaurants, discerning chefs and food enthusiasts.
The company has built its experience in the Oriental food markets over more than 40 years, developing an unparalleled network of suppliers and manufacturers throughout the Far East. This enables Wing Yip to source products of both quality and innovation for our customers.
Wing Yip are pleased to present the recipe idea below to our readers, for all your Summer barbecue events.
Salt and Pepper Ribs
Serves 2
Ingredients:
450g pork spareribs (short cut ribs)
1tsp coarse or rock salt
1/2tsp coarse black pepper
1/2tsp Szechuan peppercorns
1 ltr vegetable oil
1 red chilli (finely sliced)
1 spring onion (finely sliced)
Marinade:
1 heaped tbsp corn starch
1tbsp water
1/2tsp five spice powder
Method:
1. Gently heat the Szechuan peppercorns in a dry pan for 1 minute. Cool and grind in a pestle and mortar or a pepper grinder.
2. Mix the salt, black pepper and Szechuan peppercorns together.
3. Place the spareribs, water, corn starch and five spice powder into a large bowl. Mix well, clingfilm and marinade for at least 3 hours in the refrigerator.
4. To cook the spareribs, heat the vegetable oil in a wok or deep-frying pan. A good test is to drop a cube of bread into the hot oil and it should brown in 30 seconds. Add the spare ribs and cook for 1 minute.
5. Remove the ribs, drain well and set aside.
6. Now heat the oil again until it is almost smoking.
7. Return the spareribs to the hot oil and cook until they start to turn brown. Drain on absorbent kitchen paper.
8. Remove all the oil from the wok and quickly stir fry the sliced chilli and spring onion.
9. Add the cooked spareribs to the wok, sprinkle the salt and pepper mixture over the ribs.
10. Quickly mix all the components together and remove immediately from the heat.
11. Serve with a finger bowl of warm water and a lemon slice.
Note: If cooking on a BBQ, leave the ribs in longer pieces and follow the method until step 5. At this stage sprinkle over the salt and pepper mixture and then place the ribs on the BBQ over a medium-high heat and cook for a further 10 minutes, turning the ribs every couple of minutes to ensure that they don't burn. Remove from the heat and garnish with the red chilli and spring onion and serve with a finger bowl of warm water and a lemon slice.