A bustling terrace is the product of well-planned design starting with your furniture. Finding quality outdoor furniture that is durable and comfortable but stylish, is a key part of the concept when planning your new hospitality or leisure venue. Increasingly, terrace or patio areas are becoming an outdoor restaurant to match the atmosphere and vibe of their indoor equivalent. Al Fresco dining is a choice, not a last option because inside is full and is an opportunity for you to generate more income twelve months of the year. Think four seasons in one terrace!
From retro to rattan, colour blocking and social seating, to fully sustainable options, Satelliet UK can provide a tailor-made solution to fit with your brand and style without compromising on quality. Each of the offices, Glasgow, and Ash Vale, have a knowledgeable team who can advise you on materials, set ups and layouts to suit your outdoor space.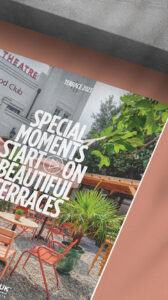 Satelliet Originals is the core collection that arose from the need to create a unique and versatile product range with its own recognisable signature.
This collection features heavily in the most recent outdoor catalogue: from contemporary Taco to classic Terra, the Originals are designed with the end user in mind. Every product in the Originals collection embodies hospitality, quality, strength, diversity, individuality, inspiration, relevance and functionality. That is the promise of Satelliet Originals.
You can view the latest Terrace Catalogue with over 200 pages of inspiration including the latest collections as well as timeless classics, tips, and interviews with hospitality owners and decision makers by visiting www.satelliet.co.uk