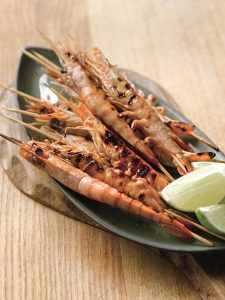 Planning a last minute BBQ now that the sun has finally arrived? Here's a quick and easy way to serve whole fresh prawns with an Oriental twist, to help you make the most of the warm summer evenings.
With four superstores located in Birmingham, Manchester, Croydon and Cricklewood, as well as an online store that delivers nationwide, Wing Yip brings authentic Oriental cuisine to UK kitchens. From fresh Oriental produce to delicious sauces and interesting spices, each store provides ingredients for inspiring Oriental recipes to cook at home.
Serve with fresh lime wedges.
Ingredients:
Wooden skewers
Large whole tiger prawns
185ml jar Wing Yip Sweet & Sour Sauce
Method
1. Soak the wooden skewers in water for approximately 20 minutes before use
2. Place prawns in a large bowl and coat with Wing Yip Sweet & Sour Sauce
3. Thread the skewer through the length of the prawn from tail to head
4. Cook quickly over hot coals, basting with more Wing Yip Sweet & Sour Sauce during the cooking process
Visit www.wingyipstore.co.uk for more recipe inspiration.