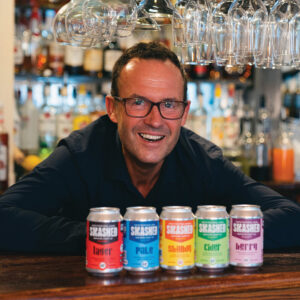 For Drynks Unlimited founder Richard Clark alcohol free drinks are not just an opportunity to "cash in on the latest trend".
Richard is on a mission to motivate the British public to "rethink drinking"!
"For me there's a huge opportunity: the consumer wants to be excited more, and given more options. Operators are looking to make more profit and attract new consumers – this is the perfect combination!"
With Sir Clive Woodward calling for big changes at Twickenham following the Welsh Rugby League setting up an alcohol-free zone at the Principality Stadium on international match days, Richard argues that banning alcohol at sports events – whether Wembley or Twickenham – is not the solution.
Richard believes that consumers should have access to have a good range of alcohol beers, ciders and wines.
"People who drink alcohol have a great time but Drynks Unlimited believe in freedom of choice for those who may not want to drink, for whatever reason. It would be great if more retailers would promote the great AF options available," he says.
Drynks Unlimited's "Smashed", its range of alcohol-free beers and ciders, are not just an addition to an alcoholic product but are all carefully brewed and de-alcoholised using an innovative cool vacuum distillation machine. Which, put simply, "smashes the alcohol out of its lager, pale ale, shandy as well as apple and berry ciders.
"As the branding says, we smashed the alcohol out of our bespoke beers and lagers and ciders creating some real drinks at 5% that are right to be de-alcoholised (not everything can be) and they become 0% real beers and lagers and ciders".
"We can all go that bit more to support retailers," Richard adds. "Not just by providing more choice, but by offering staff training and samples so they can help educate and inspire consumers.
"We can help do that and play a key part in helping people rethink the way they drink!", he added
For further information visit www.smasheddrynks.com or see the advert on the facing page.