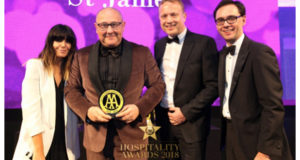 Sofitel London St James is delighted to announce that the five-star hotel has been awarded 2018-2019 AA Customer Choice Award at the 21st annual AA Hospitality Awards.
The prestigious event took place on 24th September at Grosvenor House in London. Now in its second year, the AA Customer Choice Award celebrates the hotel with the best guest reviews across 175 different online travel agencies and review sites in 45 languages.
The AA Customer Choice Award is a celebration of the "Cousu Main" service culture in place with Sofitel, where every member of the team is encouraged to create tailor-made moments that guests will remember.
Nicolas Pesty, General Manager at Sofitel London St James comments: "This award is a true recognition of our colleagues and their passion for creating memorable moments for our guests. The Customers' Choice Award is the concrete proof of their achievement."
Located at 6 Waterloo Place, on the corner of Pall Mall, close to Trafalgar Square and Regent Street, Sofitel London St James is situated in one of the most sought-after sites in the city. Home to an exceptional spa, So SPA, the celebrated restaurant, The Balcon, along with a beautiful tearoom, The Rose Lounge and after hour's hot spot, St James Bar, Sofitel London St James is one of the best luxury hotels in London. With many of the capital's landmarks nearby – Buckingham Palace, St James's Palace, St James's Park, The Mall, and most of the city's traditional gentlemen's clubs – the hotel caters for the international businessman as well as the leisure traveller.