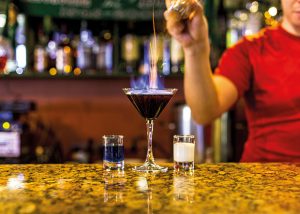 Whether you are a pub/bar, hotel or restaurant Christmas and New Year are a lucrative opportunity, maximising sales, increasing footfall and the opportunity to "premiumise'. Added to that is is also a great time to promote yourself to new clientele, people who may never have visited you before and people you hope will come back with family and friends in the New Year.
In very simple terms Christmas is "big business" in the drinks and hospitality sector!
Consumers celebrating Christmas last year were estimated to have spent an additional £562m on drinks out-of-home, according to data and insights company, CGA, with an additional 211 million visits to be made to pubs, bars, and restaurants over the festive period. And while the number of people visiting pubs/eating out may have slightly dropped in recent years the good news is those who do go out go out mere and are spending more money.
Consumers are more likely to try new categories and trade up at Christmas, and spirits are the winners! Encouraging consumers to try new drinks is also a key to helping increasing year round consumption since, according to statistics, of the one in five consumers who try something different during the festive season, 63% will order that drink again.
According to research, sales lifts at Christmas last yearwere primarily in drinks, with the value of sales rising 4.4% on the previous year, while the value of dry sales dropped slightly by 0.7%.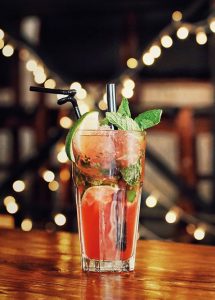 Spirits remain the favourite Christmas drink, making up 18.9% of total serves, an increase of nearly 4% against an average four-week period.
CGA also reports that over a third of people at 36%, were willing to pay extra for a better-quality drink than they'd normally choose, with 24% acting on recommendations from bar staff.
Although total sales across Britains pubs and restaurants were up just 0.6% during Christmas last year, the figures show that drinks sales saw an increase of 1.8% on the previous year, and half of additional "serves" in the on trade during recent Christmas periods are spirits! According to research by Pernod Ricard UK consumers are prepared to spend an extra 12% on cocktails at Christmas. Pernod Ricard UK channel director Mark Harris said " Bars have traditionally been the heartland for cocktails, but opportunities also exist to leverage cocktails in both pubs and food-led establishments, by offering them a Christmas treat with friends or a great after dinner alternative".
Speaking at a recent Spirits Summit last month CGA's director of client services Jonny Jones highlighted the wonderful opportunity spirits and cocktails present in for the hospitality/ontrade:
1. Spirits Are Outperforming The Market
Spirits now have a 22.1% share of all drinks sales by value, according to CGA's On-Premise Measurement Service—up by two percentage points in just four years. Some of that growth has come at the expense of categories including beer and wine, but it is also being fuelled by innovation in serve and flavour, Jones told the Summit. "The spirits category is a hugely important revenue driver for the trade, and one that is helping operators to sustain growth in a challenging marketplace."
2. The Gin Category Is Still Booming
Observers have been wondering whether the on trade has reached 'peak gin' for several years now, but CGA data suggests that point is still a way off. Sales have leapt by a third (33.2%) in the last year alone, and outlets now stock an average of 6.7 gin brands—nearly three times as many as the average of 2.4 just four years ago. Gin now attracts 14 pence in every pound spent on spirits in the on trade, with pink gin a particularly important driver.
3. Rum Is Flourishing Too
While gin is still the clear growth leader, other categories are also growing fast. Sales of golden rum and dark rum are up by 10.9% and 8.6% respectively in the last year, and now have a combined 7.2% share of the spirits market. Irish Whiskey sales are meanwhile up 2.8%. "Rum and Irish whiskey have seen plenty of innovation, as well as solid performance from bigger brands, and are tapping into consumer demand for discovery, new flavour profiles and products with heritage and an interesting brand story to tell," Jones told the Spirits Summit.
4. Premium Spirits Are Spreading
The trend towards upmarket brands in out of home drinking continues, with sales of premium spirits growing in double digits in the last year. Of the 964 spirit launches in the last three years, more than a third (329) have been in the premium category and nearly half (454) in the super premium category. But the trend is also evolving—most notably in the way that these brands are becoming more commonplace in mainstream as well as premium venues. Since premium spirit drinkers tend to be big spenders—with an average monthly on trade spend of £104.82, against £78.16 for standard spirit consumers—it is clearly a vital demographic to serve.
5. Innovation Can Boost Cocktail Sales
Cocktails are a crucial factor in the ongoing success of spirits, and CGA data shows that sales by value have risen by 7.5% in the last year. But as Jones pointed out at the Spirits Summit, there is still plenty of headroom for growth. Making greater and more prominent use of popular spirit brands could be one way to achieve it, and with the stigma around draught or pre-batched cocktails now falling away, different serves may present another route.
6. Range and NPD Need To Be Smart
The 20 million British adults who enjoy spirits out of home are more likely than average to be engaged and experimental with their drinks. CGA's BrandTrack consumer research shows that well over half (58%) of spirit drinkers enjoy trying new brands when out. But with so many new options arriving on the market, operators need to be careful not to overload drinkers with too much choice. For suppliers, the challenge is to make new product development considered and compelling, Jones said.
Rum the next "Big Thing"
Gin, golden rum and malt whisky are all showing strong growth in a flat market, says Tony Holmes, sales director, BB Foodservice (Bestway Wholesale) : "The gin market has already grown by a considerable 26.5% since last year, but rum is hot on its heels with 11.2% growth over the same period. Leading food and drink consultancy CGA, who we work closely with, has forecasted that by 2020, sales of rum will be up 33%, outstripping gin by 5%."
To help operators make the most of the trend, BB Foodservice has a wide range of branded rum products, from Kraken Black Spiced Rum to Bacardi Gold Rum.
Golden rum has seen a particular surge in popularity. Its caramel colour and fruity, honeyed flavour comes from being aged in charred oak barrels. Generally used in cocktails, such as Dark 'n' Stormy and Cuba Libre, it's also smooth enough to be sipped on its own, or on the rocks. All are ideal for a variety of food and drink businesses – from pubs and restaurants to universities and casual dining venues – at highly competitive prices.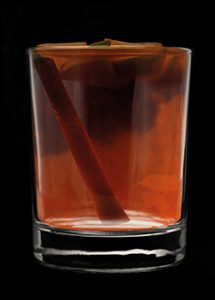 Attracting the Millenials
Mike Hardman is Marketing Manager at the catering supplies wholesaler Alliance Online. Here, he shares his top tips for creating cocktails that are guaranteed to attract the Instagram-loving millennial crowd.
If you run an independent business, you'll constantly be trying to one-up your competitors. And, more often than not, your closest competition will be chains that typically have a lot more money and manpower behind them. You can still thrive alongside these larger businesses, though. In fact, having an independent bar can actually work to your advantage — especially among the younger crowd.
But, you can't have an "if you build it they will come" mentality. You need to do everything you can to gain as much attention as possible for your bar. And, if it's millennials that you're looking to attract, it's well worth ensuring that you have a drinks menu full of Instagram-worthy cocktails. Here, I'll give you my top tips for making sure that's the case. Read on to learn more.
Make sure your cocktails fit the feel of your bar
As much as it can be tempting to jump on the latest cocktail trend, it's important that your drinks reflect the look and feel of your bar. If you run a sophisticated establishment, it won't make much sense to serve drinks that come with a garnish of popping candy. And, if the vibe of your bar is quite casual, an array of martinis might look slightly out of place on your menu. Whenever you and your bar staff are coming up with new recipes, take some time to make sure that they're in keeping with the style of your décor and any food you might serve.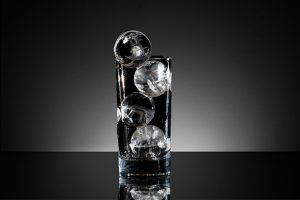 The importance of "quality ice"
"Whilst many associate ice with Christmas thanks to the chilly weather expected at this time of year, in the catering and bartending world, ice is associated with the festive period through the increasingly popular Christmas cocktail menu, says Roz Scourfield, National Sales Manager, Hoshizaki UK – www.hoshizaki-europe.com
Like any cocktail menu, the type, consistency and quality of the ice used to create these drinks is vital, and getting this right can mean the difference between customers staying in house, and those heading out for a Christmas tipple in another high-street establishment. However, thanks to innovation in ice making technology, operators can create show stopping cocktails with ease thanks to a diverse range of ice machines and styles now available on the market.
Choosing the correct type of ice depends very much on the beverage offering, but in essence, the larger the individual pieces of ice, the slower it melts and therefore the less dilution occurs – something that is particularly key for cocktails. Leading with ice machine technology for over 70 years, Hoshizaki offer UK operators a wide and varied suite of ice machine solutions that can create many different ice shapes, including cube ice, cylinder ice, flake ice, nugget ice and in the latest development, distinctive ball ice.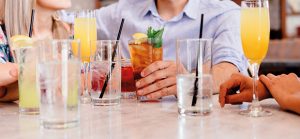 Invest in fancy glassware
The glass can make or break the look of a drink, so it's well worth having an array of impressive glassware behind your bar. Of course, you'll need the usual beer, wine, and spirit glasses, but you can have a bit of fun with the ones you choose for cocktails. Balloon, martini, margarita, hurricane, hiball, and old-fashioned glasses are pretty standard, but you could also add some tiki glasses to the mix. If your bar has a distinctive theme, you can reflect this in the glasses you buy too. For example, there are those that resemble science beakers, skulls, and even pineapples. Serve your drinks in any of these and you'll soon be getting plenty of Instagram shares and likes!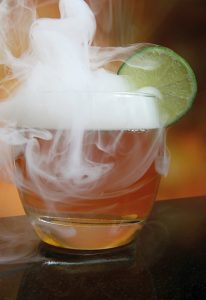 Up the fun factor
Don't be afraid to have fun with your cocktails — that's what's going to help them stand out. Cocktail bar chain The Alchemist, for example, is well known for its quirky drinks that come with a side of dry ice, or an interactive element like a syringe full of colourful alcohol. Why not take a leaf out of their book and make sure that anyone who orders one of your cocktails is given an experience, not just a drink?
Think carefully about your garnishes
Long gone are the days where you could get away with serving a cocktail with a lemon slice and maybe a little umbrella — your garnishes need to be a lot more interesting. Edible flowers, brightly coloured whipped cream, fruit shapes, and even plastic figurines can be used to dress up your drinks. And, they'll help to ensure your customers' drinks are photo-ready each and every time.
Set up your own Instagram account
The main goal of making your drinks Instagram-worthy is to encourage your customers to post photos of them on their own accounts. This will mean that they spread the word about your establishment without you having to do any extra work — it's essentially a free marketing tool.
But, you'll want them to be able to link back to your bar's Instagram account, so people can click through to see even more of your wonderful creations. You should also ensure you have a geo tag, so your customers can let their friends know exactly where they need to go to sample your drinks.
The social media platform has a great guide to setting up a business Instagram account, as well as plenty of advice on how to make the most of it. So, make sure you check out all of their content before getting started.
To attract a younger crowd, you need to make sure your bar is social media-friendly, and creating a cocktail menu full of drinks that will earn plenty of likes on Instagram is a great place to start.