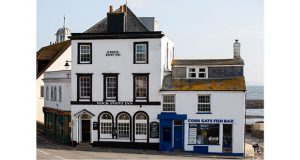 South West brewing and pub company St Austell Brewery has announced its first acquisition in Dorset in the form of the iconic Rock Point inn at Lyme Regis.
As part of the purchase, which completed this week, the historic Rock Point and Cobb Fish Bar complex, under the same ownership since 1984, will become part of the successful and award-winning St Austell Brewery estate of Westcountry pubs, inns and hotels.
St Austell Brewery was advised on the purchase from well-known local operator Gail Caddy by Torquay-based property agents, Bettesworths.
Speaking following completion of the deal, St Austell Brewery Property Director Adam Luck commented: "We're grateful to both Bettesworths for their advice and also to Gail Caddy, the previous owner of the Rock Point, for helping to make the transfer of ownership such a smooth one and we wish Gail every success with her next ventures."
Independent and family owned since 1851, St Austell Brewery's acquisition of Bath Ales in 2016 was a strategic move, not only to build the Bath Ales beer brands and business, but also to be able to service its free trade customers across the eastern part of its operating area more sustainably.
Mr Luck added: "We have always considered the wider South West region as our heartland and have been growing our free trade business for many years. The acquisition of Bath Ales and our new distribution depot at Avonmouth means we can reach more readily to customers all the way down to the south coast and we are very proud to be taking on the Rock Point, our first pub in Dorset and home to so many fantastic and vibrant bars, pubs and hotels."
Following completion of the purchase of the Rock Point, the premises will remain closed for a number of months to allow for a complete restoration and refurbishment project to give the historic building, part of which is Grade II listed, a new lease of life.
Working closely with local agencies and British listed Buildings, St Austell Brewery will undertake a full and sensitive restoration of the buildings and will also be working with researchers from the Lyme Regis Museum to form a more complete understanding of the exact age of the Rock Point and fish bar before once again reopening both sites for locals and visitors to enjoy.
Describing the plans for the historic site Adam added: "The Rock Point is such an amazing pub and a focal point of the local community. We will be talking and listening to everyone over the next few weeks to ensure we do what is right for the building taking into account its heritage and historic usage. We have a wealth of knowledge and experience in terms of both community and destination pubs and we want to be sure that the Rock Point will continue to play an important role for both locals and visitors alike when the work is complete."
For more information about St Austell Brewery and the timeline for the Rock Point restoration, visit www.staustellbrewery.co.uk.