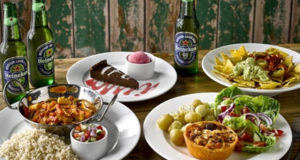 Star Pubs & Bars is launching a 'free-from' menu for licensees to help them cater for increased customer demand.
The menu features sixteen dishes and includes meat-free, dairy-free, gluten-free and vegan options for starters, mains and desserts.
Mark Teed, Star Pubs & Bars Head of Food says: "Putting together a 'free-from' menu is daunting for many licensees. We wanted to take the hard work out of it and offer them an easy-to-implement menu with a broad appeal as well as the reassurance of knowing the ingredients are correct and the dishes properly labelled."
Dishes were selected to be in line with the latest food trends and to offer a variety of flavours. The menu includes Mexican, Thai and Italian inspired options with dishes ranging from Loaded Chilli Nachos and Thai Red Vegetable Curry to an award-winning gluten free Butternut Squash, Brie, Beetroot and Truffle Infused Oil Tart* and Sticky Toffee pudding. "We've chosen dishes that appeal to all and complement a pub's core menu. So whilst we've got a sorbet, which is always popular on 'free-from' menus, we've also got a delicious chocolate and coconut torte, which is suitable for vegans as well as being dairy and gluten-free," says Teed.
To minimise waste and make introducing 'free-from' dishes easy, Star Pubs & Bars has selected pre-prepared dishes from Brakes with additional sides – such as salads and dressings – added to make full meals.
The menu will be offered to licensees as part of Star Pubs & Bars' optional food support along with accompanying tips on preparing 'free-from' meals. Teed explains: "Even if licensees don't order the dishes through Brakes, the menu is a good example of what a balanced 'free-from' range looks like.
"Free-from food is here to stay. More than 3.5 million people in the UK now identify as vegan, whilst over seven million have switched to a vegetarian diet**. It's the customers with dietary requirements who determine where a group eats out. Larger managed hospitality chains have adapted their menus. Independent operators need to do the same or lose out. Our new menu is just the starting point, we'll be adding seasonal specials such as 'free-from' Christmas dinners over time."