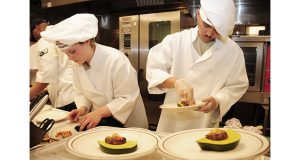 Steelite International, the hospitality tabletop leader, is excited to announce that entries are now open for their very first Rising Star Hotel Chef of the Year competition.
The exciting competition is in partnership with the Food and Beverage Managers Association (FBMA) and is open to chefs aged 18-25 currently working in any 4* and 5* hotel or hotel restaurant in Great Britain. Chefs need to submit a main recipe, complete with full ingredients list and method, for one serving, alongside an image of the final dish. But, it's not just the food that matters – particular emphasis has to be given to the presentation of the dish which will be a major consideration in the judging process.
When submitting an entry, chefs need to give a thorough description of their dish and include an image of their finished dish plated up. All entries will be judged on visual presentation, creativity, taste and flavour.
Chefs that reach the final on Tuesday 5 March 2019 will have to create and plate up a main dish for an esteemed judging panel, using mystery ingredients provided on the day. The judging panel includes:
Asma Khan – Chef proprietor at Darjeeling Express
Roy Sommer – Chairman of the Food & Beverage Managers Association
Simon Hulstone – Chef proprietor at The Elephant Restaurant
Richard Frost – Assistant editor of SUPPER Magazine
The winner of the final receives £2,500 worth of Steelite products for their hotel or hotel restaurant in addition to a three-night trip to New York City, including attendance to StarChefs International Chefs Congress 2019 and culinary tour around the city.
Kim Matienzo, VP Marketing, Steelite International, says: "This competition is a fantastic opportunity for some of the UK's finest young chefs in the hotel sector to pit their skill and imagination against their peers. We're expecting the highest standard in both the quality of food and presentation skills, so the competition will be fierce. We can't wait to see the recipes looking to make it to the final."
The closing date for entries is 17:00 on Monday 7 January 2019. All entries must be submitted via www.steelite.com/hotel-chef-competition where full terms and conditions can also be found.