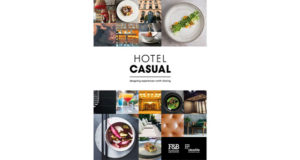 Award-winning tableware manufacturer, Steelite International, has released its latest piece of industry insight, titled 'Hotel Casual', in partnership with the Food and Beverage Managers Association (FBMA) of London. The downloadable piece investigates the future trends emerging in the London hotel F&B landscape.
Fierce competition in a saturated London market has forced hotels to innovate and diversify, driving up standards not only in London but across Europe and beyond.
The insight cites industry icons the Rosewood Hotel, One Aldwych, and The Ritz and research from SKIFT to depict forthcoming F&B trends and how they may come to impact and influence customer experience.
Andrew Klimecki, VP design at Steelite International, said: "Hotels will rise and fall with their ability to offer standout experiences, and F&B is no exception. And increasingly, people want those experiences to be as unique and personal as they are.
"There are many different factors and countless details that go into creating experiences of that calibre, and none can be overlooked. In the current hyper-competitive climate, there are so many fantastic examples of hotels responding to that challenge with creativity and ingenuity, paving the way for the rest of the industry."
Roy Sommer, chairman, FBMA, said: "The need for hotels to stand out from the crowd has never been greater. That makes an exceptional food and drink offer more important than ever. The findings from the report are conclusive, inspiring and portentous. If this is the future of F&B then the future is bright."