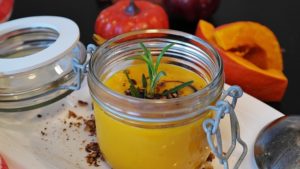 Michelin starred chef Steve Smith has devised the perfect recipe to make use of pumpkins during the Halloween season. Alternatively this recipe can be used with butternut squash for the ultimate winter warming dish.
Ingredients:
2kg Butternut squash or Pumpkin flesh
300g Unsalted butter
4 Sprigs thyme
8 Coriander seeds
3 Cloves garlic
2 Juniper berries
2 Litre chicken stock
500ml Milk
500g Grated parmesan
Method:
In a heavy bottomed saucepan sweat the flesh in the butter without colour until it starts to break down. Add all the other ingredients, except the parmesan, and simmer for 20 minutes. Add the parmesan and leave it to melt for five minutes then blitz the soup together. Pass through a chinois twice then correct seasoning and consistency. Chill and store.