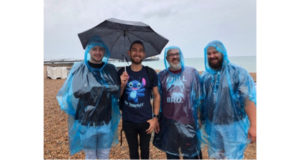 Stonegate Pub Company has teamed up with Sky Business to clean up coastlines as the mission to reduce the scourge of plastics and waste destined for our oceans continues to gain momentum.
Teams from pubs and bars joined Sky employees in Brighton and Portsmouth as over 100 people descended on the beaches to pick litter, cigarette butts and discarded plastics in a clean up that has seen tons of waste collected over the last few weeks.  Much of the litter is then recycled into everyday objects such as shampoo bottles and pin-boards.
The beach cleans take place in support of the Sky Ocean Rescue campaign which aims to shine a light on issues affecting ocean health as well as finding innovative solutions to the problem of ocean plastics continue over the coming weeks.
Suzanne Baker, Commercial Director at Stonegate Pub Company said, "Within Stonegate we are working towards reducing single use plastic across the business and a number of initiatives are in the process of being rolled out.  Working with Sky on the beach cleans has enabled our teams to help clean up within their communities, this will further inspire our people to make small everyday changes which collectively enables us to make a significant difference over time."?
Damian Saunders, Commercial and Strategy Director at Sky said, "Engagement with the Stonegate team is an exciting step forward to assist in influencing change with the hospitality sector.  Practical activity that has an immediate impact alongside increased awareness that plastics and discarded rubbish has on our oceans and marine life helps to safeguard a better future for us all"?